Nancy Hanks
Ensuring All Kids Reach Their Potential
By Rebecca Anderson-Brown, Kate Bast, Lisa Bauer, Shelby Deering, Elle Duncombe-Mills, Jenie Gao, Emily Leas, Marni McEntee, Candice Wagener & Rachel Werner  | Photographed by Hillary Schave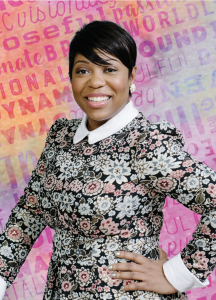 As a child in Chicago, Nancy Hanks was sitting in the front room of her house doing homework and watching TV when she heard gunfire. Her family was safe, but a bullet had pierced the headboard in Hanks' bedroom. "I could see shell casings on my pillow," she says. "I thought to myself, 'What kind of way is this to live?' Education at that point became not just knowledge but a means to a better life."
She's since dedicated her life to improving children's lives, currently as chief of elementary schools for the Madison Metropolitan School District. Hanks has led elementary schools in "the largest gains the district has ever seen," according to Superintendent Jennifer Cheatham. African-American third-grade students achieved a 10 percent increase in reading proficiency in two years. Hanks is laser focused on racial equity.
In 2016, the website The Root named Hanks one of the 100 most influential African-Americans.
She attributes her achievement—as a young scholar, Harvard graduate, teacher in Atlanta and successful principal in Chicago—to support from adult mentors who saw her potential. "I come from a long history of informal leaders, whether in my family or my lineage," she says. "I try to bring my whole self to my work, making sure that being a black girl from Chicago is a part of what I'm doing every day."
There's more work to be done, she says.
"I'm not satisfied if I'm not aggressively closing achievement gaps each year."  –Lisa Bauer
Read about more 2017 Honorees!