Christin Calloway
Elevating Underrepresented Groups
By Rebecca Anderson-Brown, Kate Bast, Lisa Bauer, Shelby Deering, Elle Duncombe-Mills, Jenie Gao, Emily Leas, Marni McEntee, Candice Wagener & Rachel Werner  | Photographed by Hillary Schave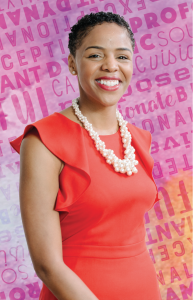 Born and raised in rural Kosciusko, Mississippi, the birthplace of Oprah Winfrey, Christin Calloway's mantra is Lift as you Climb. "There is an ugly history in Mississippi," she says. "but I see so many people come out of that history to create a better future for those who are next." Calloway is now a Ph.D. student working in the UW-System's 2020 Forward Strategic Framework's effort to improve student retention, success and completion.
With degrees from the University of Mississippi and Harvard, she banks on the power of community at educational institutions. "I had such a great experience at Ole Miss," she says, giving a shout-out to family and mentors who supported her own ascent. "I want students of color to have that connectedness and love for their university."
Her work on the UW 2020 Forward equity innovation project examines programming and relational contexts affecting retention of students in disenfranchised groups. She's also researching campus climate and cultural fluency across the system with hopes to create intergroup dialogues, mirroring work she did with social integration at Ole Miss. She adds, "We have to be able to talk across political and racial lines with civility and respect."
Through a partnership with Allied Drive Brotherhood, Calloway empowered marginalized teens to conduct their own research, which they presented at the YWCA Racial Justice Conference in 2015. After finishing her Ph.D. in 2018, she'll apply for fellowships and hopes to develop a broader community-based research methodology to uplift student voices.
"My work started in Mississippi, but there is so much to be done in Wisconsin," she says. "Home is where the heart is, and Wisconsin is now my home." –Lisa Bauer
Read about more 2017 Honorees!