Winnie Karanja
Changing the Tech World's Disparities
By Rebecca Anderson-Brown, Kate Bast, Lisa Bauer, Shelby Deering, Elle Duncombe-Mills, Jenie Gao, Emily Leas, Marni McEntee, Candice Wagener & Rachel Werner  | Photographed by Hillary Schave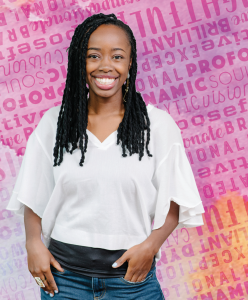 When things need to change, Winnie Karanja does something about it. She founded Maydm, an organization that introduces youth to technology through coding, because she wanted to change the disparities in tech by giving females and people of color a leg up.
"I just kept thinking, I have these skills, but there's a lot of people who don't know what it looks like to work in the tech sector, there's a lot of people who don't even have access to those opportunities," says Karanja, who grew up in the Madison area and attended the London School of Economics and Political Science for graduate school. "For me, tech has always been this currency, these sets of keys that I get to hold and I want other students to be able to have that."
Launched November 2015, Maydm provides workshops, semester-long classes and summer camps to 3rd through 12th graders. Currently in five Dane County school districts, Karanja aims to expand Maydm's reach throughout the community and double the number of students it works with in 2017.
"Our industry is wildly out of proportion when it comes to diversity," says Ashley Powell, Karanja's colleague and fellow 2017 Woman to Watch. "Winnie is personally breaking the mold and helping young kids develop an interest in tech that could change their whole lives."
A number of Maydm students have won Code Madison Forward, a two-hour competition during Forward Fest where teams build an interactive website. Many students also go on to take tech-focused classes in high school, and they are always eager to hear about new classes at Maydm.
"I'm excited to see amazing things stem up from Madison. I just want to make sure that everybody's included in that story," says Karanja. "I'm excited to have more businesses that are opened by people of color. I think that perspective has not fully been in the Madison story and so I want to see that, and to me I think it makes the community so much richer…I don't want the same statistics…that are in Dane County to be the same statistics that are there 20, 40, 60 years from now, so this is kind of my stab at tackling that and doing something." –Candice Wagener
Read about more 2017 Honorees!