Nicole Moll
Celebrating Every Child
By Rebecca Anderson-Brown, Kate Bast, Lisa Bauer, Shelby Deering, Elle Duncombe-Mills, Jenie Gao, Emily Leas, Marni McEntee, Candice Wagener & Rachel Werner  | Photographed by Hillary Schave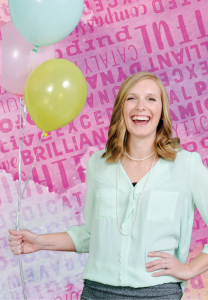 Nicole Moll has always belonged in a social justice milieu. She pursued both bachelor's and master's degrees in social work. She worked as the director of the children's ministry at her Sun Prairie church for five years. And she's had multiple roles in education and recreation, creating programming for children, before staying home to raise her own.
A friend prompted Moll with the question, "We all love having birthday parties for our kids. What if we did this for other kids?" The idea lingered, and the more Moll thought about it, the more she realized, "I really believe all children should be celebrated. And we all have a birthday. We're on a level playing field."
So in 2013, Box of Balloons was born to create birthday party kits for organizations that serve children in need, curating the perfect box for each kid's celebration. The organization partners with school social workers, domestic abuse shelters like the one at Domestic Abuse Intervention Services in Madison, and organizations such as Porch Light and Head Start.
Figuring out how to start and run a nonprofit came with a learning curve, but that clearly hasn't stopped Moll from growing Box of Balloons from a local group to 14 chapters in eight states. Now, Moll aims to expand the nonprofit nationally with a chapter in every state.
"We've had feedback from parents saying this was the first time their kid ever had a birthday party," Moll says. "We've had people tell us that it's something on their minds but that they can't provide. The feedback from social workers is similar, that they are limited in time and resources, but they know how important it is to provide this to the children and to have this as a memory in their lives." –Jenie Gao
Read about more 2017 Honorees!