Joy Tang
Fashionable Brilliant
By Rebecca Anderson-Brown, Kate Bast, Lisa Bauer, Shelby Deering, Elle Duncombe-Mills, Jenie Gao, Emily Leas, Marni McEntee, Candice Wagener & Rachel Werner  | Photographed by Hillary Schave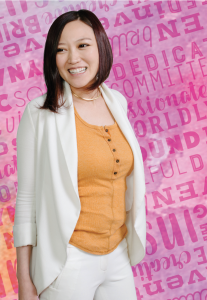 Have you ever been online, reading your favorite blog or catching up on some celeb gossip, when you see an adorable piece of clothing that you have to have, but don't know where to get it?
Joy Tang, a fashionista and CEO and founder of Markable, found herself in that quandary. Incredibly brilliant—she's the youngest person to win gold at the China Math Olympics and graduated top in her class at MIT—Tang was making seven figures in highfrequency trading when she gave it all up to focus her energy on creating a solution.
"I thought, why don't I apply [my skills] to something in a field that I'm personally more interested in [like fashion]," says Tang. "I don't want to be just crunching numbers the rest of my life…always behind computers, coding. I don't know what problem I'm solving that helps others, except earning my bonus paycheck and earning more money for the company," she says.
In the last two years, Tang has worked tirelessly to develop her company. The Markable app debuted in May 2016, allowing users to shop a fashion item using an image or photo. Markable will launch another major feature around Valentine's Day that has already garnered exclusive relationships with Fashion Week in Los Angeles and Palm Springs.
By next winter, Tang expects that at least 10 percent of the Madison population will have seen Markable's name on their favorite TV show or their favorite blog. Markable also plans to collaborate with more local content producers.
"Joy is an amazing female leader in the Madison area," says Rachel Neill, president of Carex Consulting Group. "She breaks down gender barriers and topples glass ceilings!"
Tang attributes her success to the belief her parents instilled early on: She could do anything a boy could do. Continuing to advocate for women's rights is a personal goal for 2017. "I want to help more people understand and acknowledge that there's so much double standard between genders and it's everybody's job to really recognize this and minimize this," says Tang. "Hopefully, 20 years in the future, we have no more double standards." –Candice Wagener
Read about more 2017 Honorees!