Pam Hart
Animal Magnetism
By Rebecca Anderson-Brown, Kate Bast, Lisa Bauer, Shelby Deering, Elle Duncombe-Mills, Jenie Gao, Emily Leas, Marni McEntee, Candice Wagener & Rachel Werner  | Photographed by Hillary Schave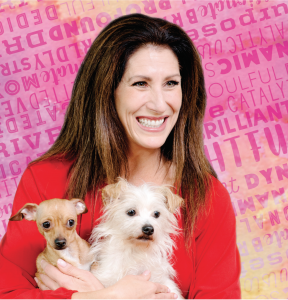 Pam Hart lays her groundbreaking career in animal law and animal rights at the paws of Max, her first dog, an abused and neglected German Shepherd mix she adopted from a New York City shelter, and lovingly nurtured for 17 years.
"I think I was pretty sheltered up to that point on these issues and I didn't really understand how anyone could hurt a dog. That really opened up my eyes to the link between domestic violence and animal cruelty."
Not long after Hart returned home to attend law school at UW-Madison, she and fellow animal law student Megan Senatori founded Sheltering Animals of Abuse Victims, now in its 15th year, to help domestic abuse victims escape their violent situations with their whole family, pets included.
Senatori says Hart, the Animal Legal Defense Fund's Animal Law program director since 2006, is a passionate and pragmatic advocate.
"She's always looking for the broader impact—how can she make a difference in the way we, as a society, treat animals?" says Senatori, a Madison attorney. "That can be a thorny issue sometimes. But Pam approaches it with compassion, intelligence and, importantly, nonjudgment."
An innovator, Hart's plans to launch at least three cutting edge education programs in 2017. The International Animal Law Boot Camp will be an immersive, virtual training course for anyone from kids and students to attorneys to animal welfare workers. The Animal Law Summer School will teach law students about animal law issues. The K-12 Animal Law Outreach will teach law students and attorneys to give "Kindness to Animals" presentations to school-aged students nationwide, planting early seeds about humane animal treatment.
With more scientific evidence finding that animals are sentient beings that also form emotional bonds with humans, Hart says animal law is one of the most exciting social justice movements of our time.
"It is a relatively young field, and attorneys are really able to shape where it's going with legal precedents and legal strategies," Hart says. "There's a tremendous number of challenges on this front but there's also a tremendous number of opportunities to make a difference."
Max undoubtedly would shake on that. –Marni McEntee
Read about more 2017 Honorees!