Erika Jones
Feeding Wisconsin's Sustainable Food Systems
By Rebecca Anderson-Brown, Kate Bast, Lisa Bauer, Shelby Deering, Elle Duncombe-Mills, Jenie Gao, Emily Leas, Marni McEntee, Candice Wagener & Rachel Werner  | Photographed by Hillary Schave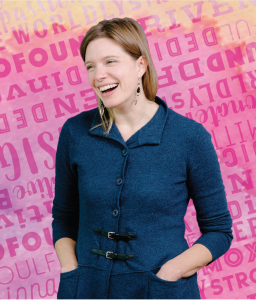 "I feel a really strong connection to food," says Erika Jones, who signed up for her first CSA more than 10 years ago. Now, as director of FairShare CSA Coalition, Jones works to forge relationships between farmers and the general public. "We have to be advocates for the farmers. They need our support, and we need them," says Jones. That's why she's working with UWExtension Dane County to launch the first Organic Vegetable Production Conference, which will bring farmers from around the Midwest together to share skills and discuss a range of agricultural topics. The goal of the conference is to support and strengthen the community of farmers in the region and beyond.
Creating a sustainable food system has always been important to Jones, and building a business that helps support others is next on her to-do list. Giant Jones Brewing Company—poised to open in 2017—will brew beers "inspired by quality and simplicity and tradition," says beer-loving Jones. Using organic and locally sourced ingredients, it'll be her creative way of enriching and supporting the Wisconsin food community.
"Food is the fabric that knits us all together," says Jones, "that keeps me going, and keeps me inspired." –Elle Duncombe-Mills
Read about more 2017 Honorees!