Gail Ford
College Prep Queen & Soul Worker
By Rebecca Anderson-Brown, Kate Bast, Lisa Bauer, Shelby Deering, Elle Duncombe-Mills, Jenie Gao, Emily Leas, Marni McEntee, Candice Wagener & Rachel Werner  | Photographed by Hillary Schave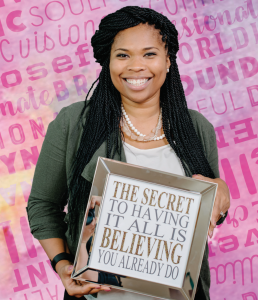 "I know the power of pre-college programs and the ripple effect on families because I experienced it," says Gail Ford, interim assistant director at UW-Madison's Pre-college Enrichment Opportunity Program for Learning Excellence, or PEOPLE. Growing up with 11 siblings, Ford was primarily raised by her grandmother. When a younger sister joined a college readiness program, Ford tagged along. She graduated as a campus leader then got a master's degree. Several siblings followed as first-generation college graduates. She adds, "A pre-college program changed the trajectory of my family."
PEOPLE gives disenfranchised populations access to college, in turn, Ford says, benefitting the whole state. Ninety-four percent of PEOPLE high school graduates enroll in higher education.
Ford embodies qualities she attributes to her inspirational grandmother: resilience, perseverance, grit. Her infectious smile widens as she talks about being chosen to attend Michelle Obama's Beating the Odds Summit in July 2015. Spending a day at the White House with colleagues and students was "one of the most amazing experiences of my life. For pre-college work to be validated by the most powerful place in the world affirmed that the work I'm doing matters."
This year at PEOPLE, she'll create a space for college access professionals and further engage vulnerable populations in college prep conversations through free seminars and public speaking.
Ford spoke as the keynote at the inaugural Black Women's Leadership Conference in May 2016. She vows to share more motivational talks, particularly with women, in what she's dubbed "soul work." She says, "I know that all of our experiences we have in life are to ultimately grow our souls."  –Lisa Bauer
Read about more 2017 Honorees!