Christina Outlay
Programming It Forward
By Rebecca Anderson-Brown, Kate Bast, Lisa Bauer, Shelby Deering, Elle Duncombe-Mills, Jenie Gao, Emily Leas, Marni McEntee, Candice Wagener & Rachel Werner  | Photographed by Hillary Schave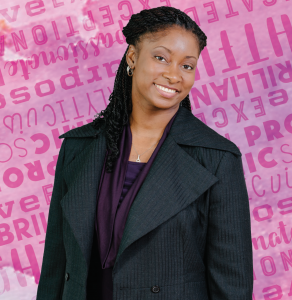 "A lot of things I do are about getting people to go into spaces that they normally don't," says Christina Outlay, assistant professor in IT at UW-Whitewater and creator of colorcoded, whose mission is to get more girls, minorities and low-income kids interested in programming.
Since 2012, Outlay has helped run the CyberGirlz and CyberHigh summer camps at UW-Whitewater. She noticed that, while they were working very hard to bring in more girls to IT, they weren't successful in attracting minority girls. Plus, there were gaps in certain underrepresented minority men as well as low-income youth.
Colorcoded offers one-day workshops, which Outlay says spark kids' interest, and after-school programs, of which she'll be running two this spring out of Madison and Sun Prairie, targeting students in 6th to 10th grade.
The third element to colorcoded provides job opportunities and internships to youth, because Outlay was frustrated by the lack of tech-related positions available for high schoolers. "I wanted to hire youth. Not just attracting them to computing but I really want them to associate their like for computers with the ability to make money working with them."
Outlay is grateful that UW-Whitewater has decided to step in and help fund these internships. She's also in talks with corporate partners, including TDS, about starting high school internships and job shadow programs in their IT programs. Until recently, Outlay was supporting students out of pocket.
She also self-supports two scholarships for students, one for women in IT and another for African Americans in IT.
"I come up with an idea and if I feel strongly enough about it, and I think I run into some roadblocks to making it happen, " says Outlay, " I just figure out how I can make it happen myself," says Outlay. –Candice Wagener
Read about more 2017 Honorees!