JoAnne Brown
Cultivating 'College Possible' Mindsets
By Rebecca Anderson-Brown, Kate Bast, Lisa Bauer, Shelby Deering, Elle Duncombe-Mills, Jenie Gao, Emily Leas, Marni McEntee, Candice Wagener & Rachel Werner  | Photographed by Hillary Schave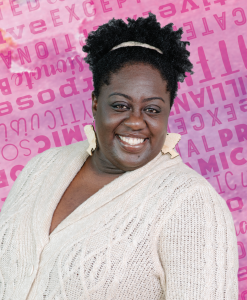 JoAnne Brown is in her dream job. Attending James Madison Memorial High School in the mid-'90s, she told the multicultural services coordinator at the time she would be back for the job. And she was, in 2011.
A typical day involves working with students on "all things college"— researching schools, filling out applications, ACT/SAT prep, looking into scholarships and financial aid. She often exposes students to colleges they've never even heard of but are a perfect fit. And she regularly takes students of color on college visits since many wouldn't have access to the experience otherwise.
Inspired to do the same good work outside the four walls of Memorial, she's just launched Dream Big, LLC, which will provide similar college prep services to high school students in the King James and Fitchburg areas, starting this summer. "Whatever their dream is," says Brown, "I want them to dream it big. Then we'll work on the steps to getting there…just because their life may not seem like what they want it to be, they can still dream big and they can make something out of themselves."
It's clear she takes enormous pride in what she does and doesn't shirk her large responsibility for changing the perception for so many students of color that college is something they can do, and can do outside of Madison.
Brown believes one of the keys to breaking the cycle of poverty and trauma in families is to have these kids get out into the world and broaden their horizons. She tells her students to take time to be themselves. "Your family will be okay. Make something of yourself so you can get back to your family and your community."  –Candice Wagener
Read about more 2017 Honorees!