Kyira Hauer
Confronting the Narrative, Reframing Beauty
By Rebecca Anderson-Brown, Kate Bast, Lisa Bauer, Shelby Deering, Elle Duncombe-Mills, Jenie Gao, Emily Leas, Marni McEntee, Candice Wagener & Rachel Werner  | Photographed by Hillary Schave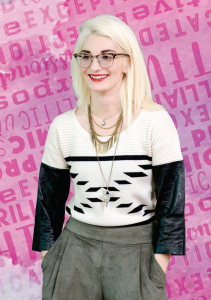 Perfectionism wasn't a lofty goal for artist Kyira Hauer; it was a way of life. After a childhood plagued with dysfunction and instability due to her mother's undiagnosed mental illness and drug addiction, Hauer learned at a young age she had much to achieve to overcome her roots and build a better life. "I lost myself in the external pressure I felt from extended family members to not 'F' up. The intense drive to please and live for other people is eventually what lead to my eating disorder," Hauer says.
An exceptional student, Hauer's academic success and determination had her on the rigorous path to medical school. But the obsessive need to perform and look her best metamorphosed into the most deadly mental illness in America today—Anorexia Nervosa. She reflects, "I think my biggest accomplishment has been finding recovery from my eating disorder and alongside that, finding myself. I have spent years working toward and on my recovery and have found space to get to know the me that was underneath that insidious disease."
Initial steps in Hauer's journey to self-awareness were rekindling her artistic nature; starting her business Kinda Kreative; and changing degree tracks so that she will graduate with a master's degree in counseling psychology from UW-Madison this May. "Creative expression is really what helped me process the chaos I was growing up in as a child," Hauer shares. "I now see the underlying theme of everything I do as a means to keep learning about myself and creating a space for others to learn how to love different parts of themselves."
And her business is the multi-faceted platform Hauer uses to connect with the community via colorful, nouveau pop art, as a 2017 DreamBank Learning Lab and Dream Big series speaker, co-founder of the local women's empowerment group Badass Babes and the photographically driven #ReclaimBeauty project. "I think of it all as social activism," she explains. "Public speaking and coaching help me meet people where they are at since not everyone is ready for or open to (formal) therapy."
Hauer also sees her anti-body shaming campaign as a therapeutic outlet for society as a whole. So she is branching out to other regions in Wisconsin this year by hosting #ReclaimBeauty shoots in Appleton, Beloit and Milwaukee. "The truth is, the notion of beauty and worth—as it exists right now in the media and our culture as a whole—is unattainable in that it tries to put people into a predetermined box of what is valuable," Hauer says. "It is each of us, in our raw and unfiltered state, that represents the epitome of beauty—and I plan to change the direction of the conversation."  –Rachel Werner
Read about more 2017 Honorees!