Eugenia Podesta
Dream Supporter
By Rebecca Anderson-Brown, Kate Bast, Lisa Bauer, Shelby Deering, Elle Duncombe-Mills, Jenie Gao, Emily Leas, Marni McEntee, Candice Wagener & Rachel Werner  | Photographed by Hillary Schave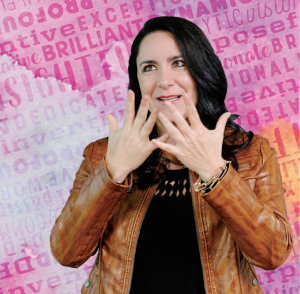 Whether it's here in Madison or in a far-flung village in Latin America, Eugenia Podesta works as a tireless connector, facilitator, dream supporter and cheerleader. She is a director on the Economic Empowerment & Entrepreneurship team at Vital Voices, an international women's leadership nongovernmental organization founded by former Secretaries of State Hillary Clinton and Madeleine Albright. There, Podesta's work revolves around fostering economic empowerment and entrepreneurship opportunities for women globally.
In April 2016, Podesta took her enthusiasm for growing a new generation of entrepreneurs and created a local hub for just that purpose—Synergy Coworking.
It's a local place where entrepreneurs and small-business owners can work in private offices, hold meetings and attend educational seminars and events. Balancing a full-time job and opening a coworking space is certainly not for the faint of heart, but Podesta isn't one to shy away from challenges.
"Once you see the impact of what you're doing and you're seeing that it's changing someone's perspective, that just feeds into your drive to continue to do that," she says.
Sarah Sadie Busse, a former poet laureate for the City of Madison who joined Synergy Coworking shortly after it opened, admires Podesta's unwavering dedication to seeing people realize their goals, calling Podesta's commitment a "dynamic encouragement" that is  "so necessary," says Busse.
Podesta describes the upcoming year as "an explosion of energy." A "big planner," she has several goals, such as nurturing collaborative and innovative relationships through Synergy Coworking, delivering opportunities and accelerated growth to women and leaders of color locally and developing a deeper understanding of the entrepreneurial ecosystem in Madison—and around the world. –Shelby Deering
Read about more 2017 Honorees!