Ashley Powell
Giving The Talk
By Rebecca Anderson-Brown, Kate Bast, Lisa Bauer, Shelby Deering, Elle Duncombe-Mills, Jenie Gao, Emily Leas, Marni McEntee, Candice Wagener & Rachel Werner  | Photographed by Hillary Schave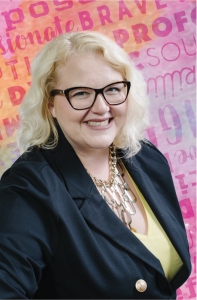 Ashley Powell knew she was worth six figures before she started at Bendyworks, a custom software development firm. At the time asking for that figure, laughs Powell, "made me want to vomit, because I really felt like I was taking myself out of the running for so many jobs."
Now she gives "the talk" on salary negotiations, determined to bring more women into tech—an industry which reported 50 percent female employees in the '80s, and reports only 20 percent today. She also wants to help women get higher-paid positions in fields like programming, which allow women to make a breadwinning salary.
Powell says the collaboration to grow opportunity within the tech industry here is tremendous. Companies are united in their mission to get Madison recognized as a tech hub, create jobs and bring more great developers to the area. "I'm really excited about tech in Madison. We're starting to get a really good reputation nationally."
Powell does her own part by co-organizing Madison Women in Tech, a group of over 700 members coming together to network, and helping with events like Forward Fest, Madison's version of South by Southwest. And giving "The Talk," helping women boldly move forward in the industry.
"I think it's one of the reasons that the salary negotiation talk is so popular because really no one takes us aside and tells us how we're supposed to do this," says Powell. "Don't be afraid of the big numbers. Boys aren't afraid of the big numbers. And, realistically, anyone that thinks you're not worth the big number, that's okay. Don't let them hire you." –Candice Wagener
Read about more 2017 Honorees!