Ilana Nankin
Breathing Deep, Making Change
By Rebecca Anderson-Brown, Kate Bast, Lisa Bauer, Shelby Deering, Elle Duncombe-Mills, Jenie Gao, Emily Leas, Marni McEntee, Candice Wagener & Rachel Werner  | Photographed by Hillary Schave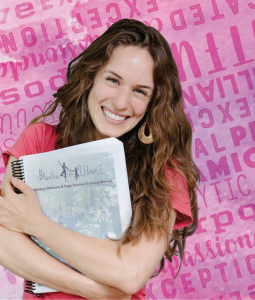 Just six years ago, as a pre-K teacher in the San Francisco Bay Area, Ilana Nankin was stressed and unsure that she had the tools to navigate the world of education. She discovered yoga and found a peace within herself, and shared that with her 4-year old students by introducing breathing exercises and mindfulness in the classroom.
Nankin came to UW Madison in 2012 to pursue her Ph.D. in curriculum and instruction, following a cohort of first-year teachers as part of her dissertation work.
"I found very quickly that these first-year teachers who went in like social justice warriors, became so stressed, so overwhelmed—just like I had in my teaching—but did not have the tools or support to take care of themselves," Nankin explains.
As she continued her Ph.D. work, her ideas on starting change from within through yoga and self-care were only confirmed and in January 2015 she decided, "I'm starting a movement and nothing is stopping me."
Today, she is the founder and CEO of Breathe for Change, the world's only 200-hour wellness and yoga teacher training that's designed for educators.
"Our graduates get their yoga alliance certification, and a wellness champion certification through [Breathe for Change] which allows them to run programs in their school with our support," explains Nankin, noting that this unique approach empowers teachers to create change within their own communities.
In just two short years, the program grew from 34 certified educators in Madison to 200 in 2016 across Madison, the Bay Area and New York City. The goal is to graduate 600-700 students in 2017 by expanding outside of education to other professional fields and in more cities. For Nankin, it's all about fostering conditions that empower people to best do their own important work in the world. –Emily Leas
Read about more 2017 Honorees!