Simone Doing
Unlocking Juvenile Potential
By Rebecca Anderson-Brown, Kate Bast, Lisa Bauer, Shelby Deering, Elle Duncombe-Mills, Jenie Gao, Emily Leas, Marni McEntee, Candice Wagener & Rachel Werner  | Photographed by Hillary Schave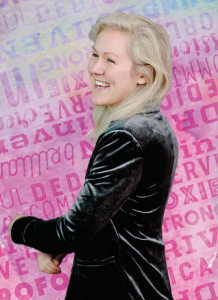 Simone Doing uses her work as an artist to effect meaningful change. "I grew up with the arts being centralized and recognize the importance of creativity in a young person's life. I want to help all young people unlock their potential through the arts," Doing says. Doing addresses some of the most critical social causes of our time. She and her partner, Max Puchalsky, collaborate with GSAFE, a nonprofit group committed to advocacy and
programming in schools for trans, queer and LBTQ+ youth. They help establish gay-straight alliances in schools, for students to talk and support one another.
Their work with GSAFE and Ali Muldrow, the organization's racial justice youth organizer, began with an exhibit called "Captured," featuring 12 photographs by Amber Sowards of incarcerated youth facing away from the camera, revealing through the environment their day-to-day reality. The exhibit shows this summer at Overture Center.
It's art that encourages empathy. The Dane County Juvenile Center doesn't have mental health services. The kids can't go outside. Their rooms look like cages. Most students at the detention center were arrested in schools and are students of color and LGBTQ+. There's overwhelming evidence that they are the most vulnerable to entering the school-to-prison pipeline.
In 2017, Doing will help GSAFE with the New Narrative Project. As an arts educator she'll guide incarcerated youth toward academic success and civic engagement, problemsolving, critical thinking and self-reflection, especially about the social justice issues that affect them. The project's ultimate goal is to abolish youth incarceration, helping society see it as harmful and inhumane.
"We need to invest in our young people and education. We need to raise awareness and consensus around the belief that youth incarceration should not exist," says Doing. "We are all united by our ability to feel and suffer. Our society emphasizes punishment and violence. I want to leverage my privilege in changing that."  –Jenie Gao
Read about more 2017 Honorees!