By Shayna Mace | Photography by Shanna Wolf
When Karen Tardrew opened a brick-and-mortar location for her mobile retail concept Grasshopper Goods on Main Street in Stoughton in 2019, it ended up making all of the difference in her business during the pandemic.
Previously, Tardrew's mobile retail boutique, a refurbished 1977 camper van named Vinny that she took on the road starting in 2017, traveled to festivals and events throughout the region and beyond from spring to fall — but they were limited to operating only part of the year. When festivals were canceled and shops were closed, Tardrew, along with chief creative director, Jennifer Zutter, and director of digital marketing, Kelsey Stokstad, pivoted and revamped the shop's website to easily fulfill orders for customers.
"And local [shoppers] supported local [businesses] for sure during that time," says Tardrew, referencing her loyal customer base in Stoughton and outside the region. Carrying Midwest makers and beyond, Tardrew says their snappy goods such as cool T-shirts, handcrafted jewelry, cocktail accoutrements and gift items are "affordable, accessible and inclusive. We want to be approachable for everybody."
171 W. Main St., Stoughton, grasshopper-goods.myshopify.com
SHOP THE LOOK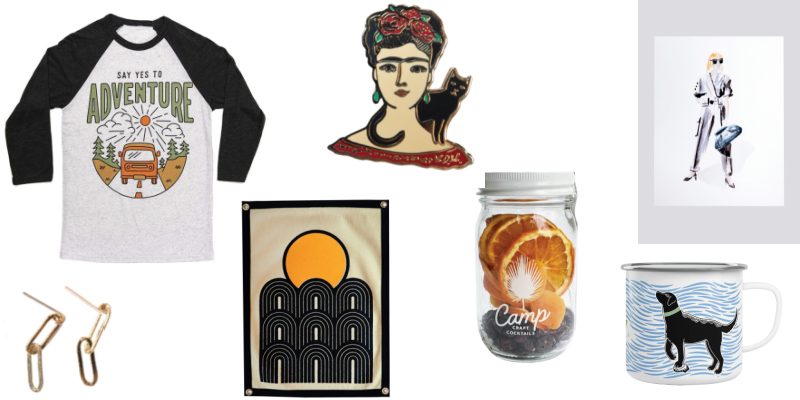 Clockwise, from top left:
The Arizona-based brand Keep Nature Wild picks up one pound of trash for every product sold, like this shirt. $34
Filipina illustrator Justine Gilbuena is based in New York and crafts creative pins, like this Frida Kahlo creation. $12
Wisconsin-based AJ's Art Jam features prints of "bad-ass women," says Tardrew — many of which are fashionably dressed. $26
This Labrador enamel camp mug by Vela is the perfect starter for your day. $17
Camp Craft Cocktails couldn't be any easier — just add 12 oz. of alcohol and chill for three days. Then add the concoction to your favorite mixer. $25
"The vibe on this Oxford Pennant fits our shop," says Tardrew. $50
Heir Raleigh's Paloma double- link stud earrings are cool, classic and chic. $38