By Holly Marley-Henschen, Shayna Mace & Masarah Van Eyck
February's a great time for couple-based outings, and plenty of venues are primed to help spark the romance in your life. But for many, hitched or not, investing in quality me-time is the real reconnect we need. In this month of love, we say treat yourself— to the city's finest ways to pamper your body, mind and spirit. Below are activities to rekindle that relationship with your number-one.

Among the plethora of benefits regular exercise provides (reduces disease risk, boosts your mental health, maintains blood sugar control, strengthens your body and much more) it can be just plain fun too (really!). And what better way to love your body than keep it in tip-top condition? These Madison-area options give you ways to stretch, strengthen, sweat and shape your body for healthy results.
Lioness Fitness Gym
This all-female gym in Fitchburg is run by a team of certified personal trainers who are all moms. The team takes pride in its focus on building strength— not losing weight. Their 12-person, hour-long circuit classes offer a dozen different stations for full-body workouts that change daily. Didn't get much sleep last night? Want to go harder? Workouts are customizable. lioness-fitness.com
Burn Boot Camp
Pump up your bod and the jams at one of Burn Boot Camp's five (soon to be six) Madison-area locations (Middleton, Monona, Sun Prairie, Verona, Fitchburg; Hilldale is opening this year). Their 45-minute personal training-fitness class hybrids run on a soundtrack as energetic as the workouts and can burn as many as 700 calories each. With a mix of cardio and strength training, you'll never do the same workout twice. burnbootcamp.com
barre3
"barre3 wants you to work out because you can, because it feels good, because it's fun," says Missy Dunn, owner of barre3's Madison location. The trio of ballet barre exercises, Pilates and yoga meld into a balanced, full-body workout of strength training, cardio and mindfulness at this University Avenue studio. barre3.com/studio-locations/madison
The Studio
The Studio's High Point Road and Machinery Row locations are perfect spots to experiment with your practice. With nearly 12 hours daily of back-to-back regular, hot and gentle flow yoga classes— as well as guided meditation and high-intensity interval training— you can love yourself according to your changing needs of each day's schedule. thestudiomadison.com
Meditation at Monona Terrace
(Feb. 5, 12 and 19, noon)
Meditation is the ultimate "you" time. Meditation leader and integrative psychiatrist Sarah Moore says the key is to be gentle and compassionate with yourself. De-stress and soothe anxiety with these noon sessions concentrating on breath-focused mind and body meditations influenced by tai chi and buddhist traditions. There's no trick to it: "You're successfully meditating when your mind wanders and then you bring your mind back to the present," Moore says.
New and experienced meditators are welcome in the tranquil lakeside spot. mononaterrace.com/event-group/meditation-monona-terrace
–HMH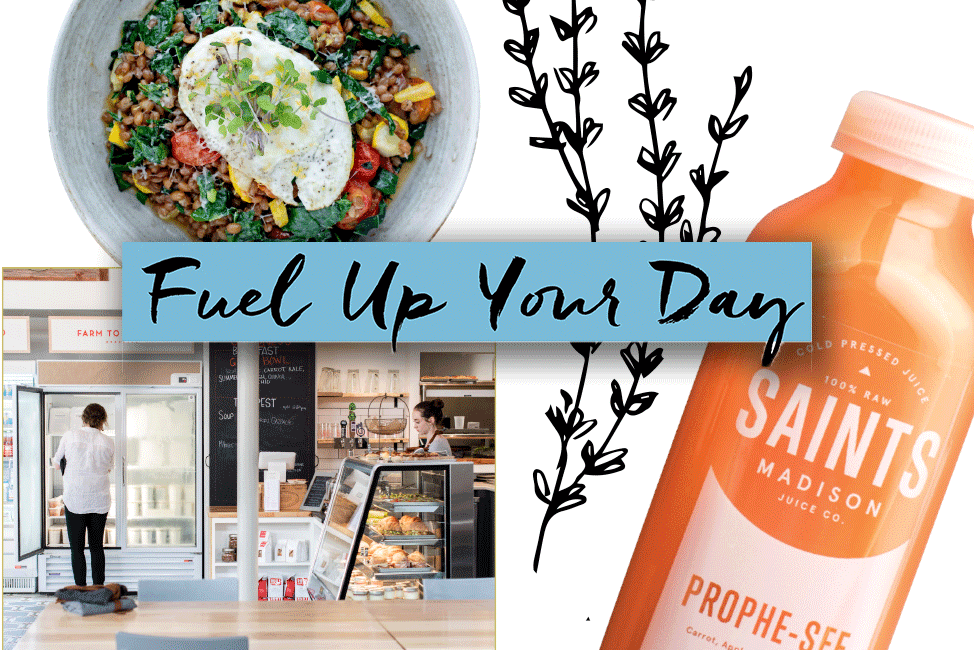 Us Midwesterners are known for our love of rich comfort foods— but why not shift your thinking of "comfort food" to wholesome, healthy foods and drinks that can both excite your taste buds and provide nutrition?
Surya Café
With Himalayan ambience and a menu designed to cultivate the wholeness of mind and body, Surya's locally-sourced, vegan and gluten-free dishes include treats like the curry cauliflower waffles and zucchini noodle alfredo. There's a bounty of desserts, delectable fresh juices and a coffee and tea bar. Located in Perennial Yoga Studios in Fitchburg, and at the new Garver Feed Mill, you can pick up a treat after class or just stop by for a meal. surya-cafe.com
Saints Madison Juice Co.
Try a mini—and affordable—dose of self-love from Saints Juice Co. The Willy Street juicery's refreshing blends are cold-pressed, raw and unpasteurized to maximize nutrient availability. Love your palate with healthy juice mixes like Serenity Now, a combo of grapefruit, lavender, honey and cayenne, yummy nut "mylks," like Date Shake, and cleanse packs. saintsmadison.com
Pasture and Plenty
This is the place to nourish your body and protect the planet. Their weekly subscription meal kits offer three plant-forward, pasture-raised meals of locally- sourced food in sustainable (often reusable) containers. Or just grab something from their farm-to-freezer selection. P&P offers both pickup, delivery and you can dine in the deli-like restaurant on dishes like local seasonal grain bowls and RP's pasta bowls. pastureandplenty.com
–HMH

Sometimes you have 30 minutes to spare for a quick polish change, and other days you may want to— yep—treat yourself. Here's what to do if you have a little— or a lot—of time.
30 minutes: Arch Apothecary
Slip into Arch on the Capitol Square for half an hour and give yourself a boost in one of several ways. The beauty boutique's name refers to the arch of your brow—so try a brow wax! A brow tint will give you fuller, darker brows for those self-love selfies. Or, wink at yourself after an eye makeup application with one of their makeup artists. Getting a cool braid done, including the popular boxer braid, also changes up your look in no time flat. And Arch has always offered blowouts— another chic way to lend your hair a quick makeover. archapothecary.com
One hour: Ashiatsu Massage at Sol Escape Healing Arts
Get footloose and fancy free with this deep-tissue massage at Sol Escape on Atwood Avenue. Ashiatsu translates to "foot pressure" in Japanese. The practitioner, supported by bars hung from the ceiling, glides the soles of their feet across your body. The pressure of gravity with the broad surface of the foot helps release that pent-up winter tension. solescapehealingarts.com
Half a day: Kneaded Relief Day Spa
Gift yourself a little luxury at this Fitchburg spa overlooking a restored prairie. Treat yourself to a 75-minute seasonal massage, with a hot compress on the lower back and hips, cooling massage lotion and a sweet peppermint scalp massage. Try a customized facial and then soak in an aromatherapy bath. And, there's no rush—you can lounge in the relaxation retreat between services. kneadedreliefdayspa.com
All day: Sundara Spa
This decadent destination spa is tucked in a pine forest on the outskirts of Wisconsin Dells. An organic facial can soothe winter-weary skin and Sundara's salt treatment room is thought to have respiratory benefits. Sample complimentary yoga, meditation and fitness activities. Dine at the on-site farm-to-fork restaurant and pack a swimsuit for a dip in the heated outdoor infinity pool. Prepare to unplug: common areas are electronics-free. Not ready to leave? You can book a room and stay the night! sundaraspa.com
–HMH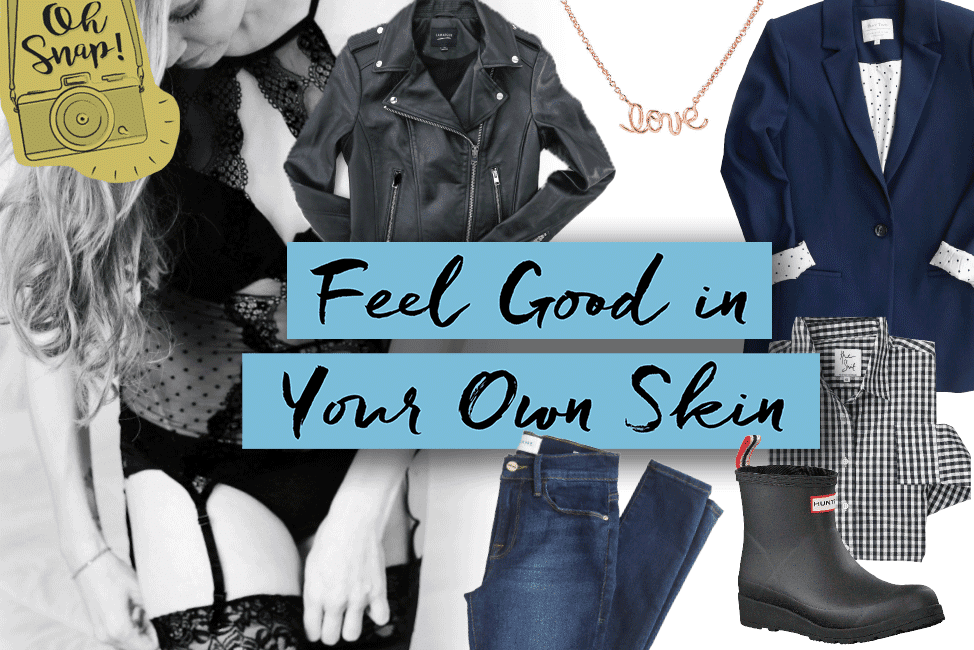 Whether you're simply going to work, out and about or in a state of undress, you want to look and feel good. Here are ways to maximize your happiness and how you look in the skin you're in.
Body Positivity
Build your confidence and see yourself as you never have before with a boudoir photo session. Madison-based Azena Photography's Hillary Schave will provide guidance on professional posing and lighting in the state of undress that's most comfortable for you during her sessions. With this daring act of self-love, you can commemorate milestones and showcase your unique personality with props. Compliments and risqué jokes are included! azenaphoto.com
Stoughton-based H. Claire Photography's Hanah Baica has you get glammed up and shed your inhibitions with her photo sessions that include professional hair and makeup. Accent your own three looks with layers and accessories from her style closet. Just an hour after the session, images are ready to order on calendars, acrylic blocks and canvas wall art. hclairephoto.com
–HMH

Part of loving yourself means wearing pieces you feel good in every day—and items that mix and match seamlessly with many looks. So take a critical look at your closet and fill in the gaps with some of the closet classics at left—or similar pieces. You'll never regret having wardrobe go-tos that stand the test of time.
Clockwise:

Tia Lyn, owner of Contours Lingerie and a lingerie designer, says that she's honed her bra fittings to three easy steps. First, she takes measurements of a customer's band and cup size. Then, they find the band size that's actually most comfortable— and sometimes that varies from the actual measurement. Then she brings the customer anywhere from 40-60 bras to try on—and "it's only products that fit, which takes the frustration [out of the fitting]," she explains. But finding a bra that fits and is comfortable is the ultimate luxury, and something all women should do, says Lyn.
"I really love giving customers … what I consider a mini-makeover. They can stand taller, be confident, feel pretty and find products that they never dreamed would fit."
Marlies Dekker Style bra, $148, and panties, $69, Contours Lingerie
–SM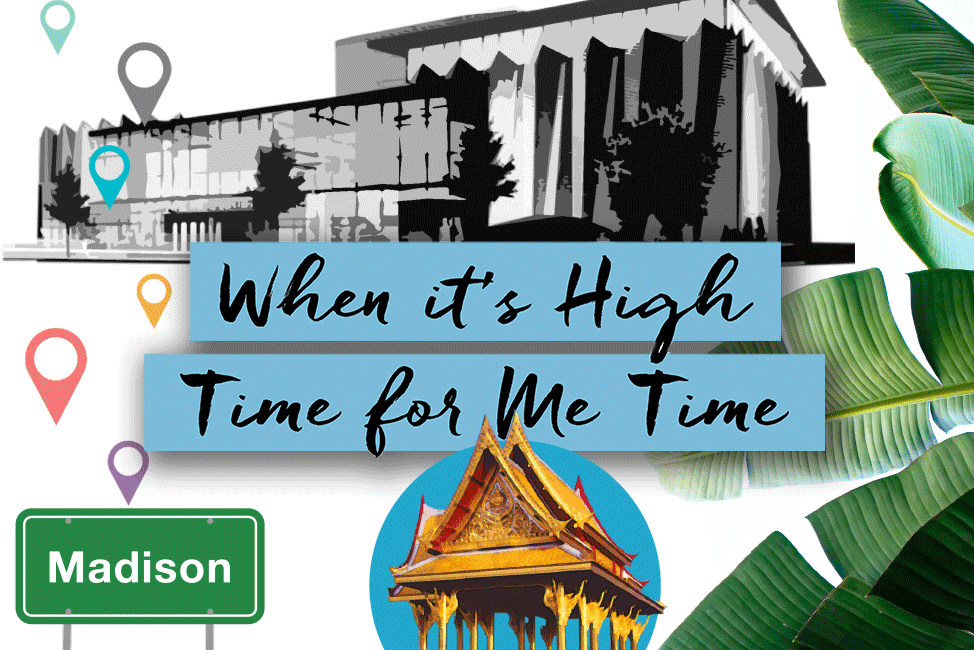 It's a (solo) date— explore arts and culture on a budget, view nature indoors and out, and restore your winter-weary soul.
Take a Singular Stroll
Feeling artsy? Start on the second floor of the Memorial Union and enjoy free gallery exhibitions with a view of Lake Mendota. Stay and attend one of the many events listed on the electronic kiosks on the main floor, or cross Langdon Street and pop into the Wisconsin Historical Society headquarters on Library Mall. There, you'll find a young John Muir's desk clock in the lobby and, one floor down, an impressive display of arrowheads and other artifacts unearthed from across the state. (The historical society's full-fledged museum, located on the Capitol Square, contains four floors of permanent and rotating exhibitions.)
Follow the East Campus Mall to the university's Chazen Museum of Art, home to the second-largest permanent collection in the state. For a free concert, catch Sunday Afternoon Live at the Chazen Feb. 2 at 12:30 p.m., or just warm up over a steaming cup of coffee or tea in the first-floor café, which boasts some of the best people-watching in town.
Cross the arts plaza and duck into the ultra-modern Hamel Music Center to take in a musical performance with state- of-the-art acoustics. Or continue up State Street where the Madison Museum of Contemporary Art offers thought provoking exhibitions in a sunny, modern setting.
Still standing? Pop into the Overture Center for the Arts and peruse three stories of visual arts just off the Rotunda lobby. End your tour in the top floor's James Watrous Gallery which features Wisconsin-themed exhibitions curated by the Wisconsin Academy of Sciences, Arts & Letters. If you time it right, you may just hit a gallery opening and find yourself sipping and snacking with the local art set.
Olbrich Botanical Gardens Bolz Conservatory
Summer isn't the only season for outdoor lovers—even if you prefer to leave your parka at home. Billed as a "living museum and source of serenity for many," the Bolz Conservatory on Madison's far east side is home to a diverse range of plants, koi and free-flying birds overhead. Sip and stroll during the once-per-month Cocktails in the Conservatory or soak up some vitamin D in the 16 acres of outdoor gardens. (Admission to the outdoor gardens is free; admission to the Bolz Conservatory is a modest $2.) olbrich.org
Aldo Leopold Nature Center Bird & Nature Outing (Saturday, Feb. 22, 10 a.m.)
Refresh yourself with the physical, mental, emotional and spiritual benefit of the outdoors on this naturalist-led hike. Beginning in the Aldo Leopold Nature Center's prairie, woodland, oak savanna and wetland habitats, the trek continues into Edna Taylor Conservation Park, which is dotted with ponds. Winter birds will be flitting about. Your flora and fauna neighbors await! aldoleopoldnaturecenter.org
D.C. Smith Greenhouse and Botany Garden and Greenhouse
On UW-Madison's campus, take in the tropics at the D.C. Smith Greenhouse and the Botany Garden and Greenhouse, both of which offer water features and a warm oasis to sit for a spell. The D.C. Smith Greenhouse is located at the corner of Babcock and Linden drives, while the Botany Greenhouse is located in the basement of Birge Hall just off Bascom Hill. The latter is comprised of eight greenhouse rooms that take you through a journey of the tropics, desert, bog and fern forest. Botany-related visual art is integrated into both the indoor and outdoor gardens. (Note both greenhouses are only open weekdays.) dcsmithgreenhouse.cals.wisc.edu; livingcollection.botany.wisc.edu
Arboretum Walk or Free February Events
Find peace of mind in the mid-Madison oasis of the UW Arboretum's 1,200 acres and 17 miles of trails. Even a stroll down Arboretum Drive is a calming, centering forest bath. Paths lead to a natural spring, ponds and Lake Wingra. Enrich the mind and body simultaneously with the Feb. 8 Hunger Moon Night Walk or ecological work parties every Saturday morning. arboretum.wisc.edu/visit/events
–MVE