Summon your courage, to grow and inspire By Shilagh Mirgain | Photographed by Shanna Wolf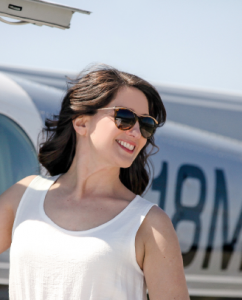 I have always loved traveling alone. Perhaps it's because my mother taught me as a teenager not to be afraid to go see a movie, art exhibit or cultural event on my own. The world became my playground in college when I studied abroad in Asia and Australia and I took my first solo trips. With limited access to a phone, and only my backpack, wits and a lot of courage, I relied solely on myself to navigate unfamiliar situations. These were journeys of self-discovery, and I grew. Encountering situations, people, traditions and landscapes so different from what I knew broadened my perspective and gave me confidence to venture into other uncharted territories.
For many years I've had a bucket list of places I want to visit and I've made a commitment to check them off one by one, even if it means going alone. Last summer, I signed up for a tour to hike up Mount Kilimanjaro in Tanzania, my dream for 20 years. When  the tour company informed me that no one else had signed up for the trek, I took a deep breath, recalibrated and said to myself, "I can do this." I trained for six months, saved every penny and each morning visualized myself making it to the top. Finally, in the early light on Feb. 2 this year, I did. I reached the 19,341-foot summit.
It's easy to become depleted by our roles and responsibilities, to let our inner light dim. Solo travel is the fastest way I know for women to find the necessary space to dive deep within and connect to our truth, delight our spirit and truly nourish ourselves.
We can also intimately connect with the lives of others—our guides or the local people— to glimpse the strength of the human spirit and our common humanity: that we all want to be happy, healthy and free of suffering. Upon my descent from Kilimanjaro, a local woman noticed my swollen legs and battered black-and-blue toes. I was exhausted, still suffering from altitude sickness, and feeling far from home. She held my hands, said she was sorry for all this, then wished me well, saying, "I hope the rest of your life is filled with blessings and you are happy." These kinds of interactions show me that our gifts as women, our innate capacity for connection, compassion and love are so needed in the world. We are all part of a global tribe of women rising up out of our circumstances, finding our voices and accessing our power. By supporting and encouraging each other we can go farther faster, inspire each other and change the world.
So don't wait to take that trip, until it is the perfect time or until someone can join you. Set your intentions, take the steps and go. You will learn something indescribable about yourself, gain perspective on your life and understand more fully your place in the world.
Read more solo travel stories in BRAVA's May issue!
Pack Your Pluck
Where Freedom Rings