By Shayna Mace | Photography by Shanna Wolf
Sun streams in the windows of Donna Craig's The Little Marketplace on a leisurely summer morning, while French bistro music plays in the background. The shop's black and white aesthetic, coupled with Craig's sophisticated finds, feels like a shop you might happen upon in a chic Chicago neighborhood, or a European city. And that was Craig's intention when she dreamed up the concept for her Mount Horeb gift and garden boutique that opened in August 2021.
Having worked at retailers Marshall Field's, Saks, Talbots and Neiman Marcus in the past, Craig wove in her years of experience to find just the right mix for The Little Marketplace, which includes tableware, graphic tees and totes (designed and produced by Craig herself), vintage tableware and glassware, and a smattering of garden goods.
Most of Craig's prices are quite affordable (we saw a beautiful baking dish for only $14) to a bit more for vintage items. Craig scours estate sales for her vintage items — but many look brand-new.
"I look for classic pieces — pieces that you'll have forever, or maybe you'll pass down," says Craig.
SHOP THE LOOK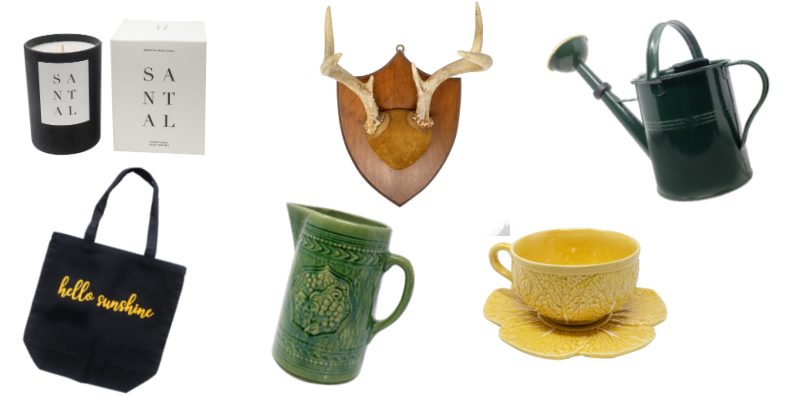 Clockwise, from top left:
Craig says Brooklyn's Candle Studio's candles in scents such as Neroli and Balsam are popular. $38
There are a number of antler hangings in the shop, all sourced from estate sales. $60-$65
Made in Slovakia, Plint's galvanized watering can is pretty and durable. $95
Enjoy a cup of tea in Bordallo Pinheiro's Majolica cup and saucer pairing. $60 (set of four)
This Stoneware Art green pitcher is one of Craig's vintage finds. $62
The Little Marketplace's graphic tees and totes have cute sayings such as "hello" and "amour toujours." $24 & $28