Candice Wagener, freelance writer, ghost blogger and content writer/editor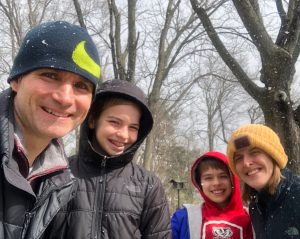 Candice lives in Middleton with her husband Ben and two sons, Miles (13), and Henry (11).
What's been your daily uniform?
I'm definitely making a concerted effort to change out of PJs at a reasonable hour, but sticking with comfortable clothes (sweaters, leggings). I occasionally don jeans, but only the forgiving pairs.
What's been a fun activity you've done at home? 
I've been doing lots and lots of cooking and baking. My 11-year-old and I made flour tortillas, pretzels and cinnamon rolls, all from scratch.
Name the project you last worked on for BRAVA and what you liked about it. 
I really enjoyed writing the profile piece on Wendy Kuo of Tavernakaya and Umami ("Second Life," March 2020), detailing her career trajectory. Talking with people in the food industry is one of my absolute favorite things, and it was truly a joy to get to know Wendy better and hear her story.
Tell us about your daily routine. How has it changed?
The biggest change in our daily routine is the constant rushing from point A to B to C has come to a halt. Since I have middle-schoolers, they'll sleep in if I let them, which I'm fully embracing during these times. I can spend early mornings reading, writing and reflecting on next steps in my own career trajectory. When the boys do wake up, they're good about checking in with school to determine what they need to do for the day, and I'm "on call" to help out with any issues that arise (typically technology-related). They have a workout from their PE teacher that they've been doing every morning, and I've been joining along. I'm also trying to incorporate my own workouts like online yoga/Pilates/barre classes or running in and around our neighborhood several times a week. It's been a nice change to eat *all* of our meals together, go on short family walks throughout the day and wrap up our night with some favorite shows before bed (which include "A Series of Unfortunate Events" and "Pati's Mexican Table" right now).
Have you used any apps for health/wellness, or virtual programs to talk to friends and family?
My Zoom use has increased ten-fold, both for personal and work reasons. We've also been doing FaceTime and Facebook video chats with family who are out of state. I'm trying out Daily Burn for workouts and using Headspace for meditation.
What local businesses have you bought from or ordered takeout from during this time?
We ordered kombucha for curbside pickup from NessAlla Kombucha recently, and I was elated to fill our fridge with those beautiful bottles and the promise of a tasty beverage inside. I'm thinking when we start to run low on ground beef, I'll need to hit up Highland Spring Farm or Wells Farms.
What are you most looking forward to once gathering restrictions are taken away and businesses reopen?
Honestly, what I am most looking forward to is feeing safe going to my favorite grocery stores again (Willy Street Co-op, Metcalfe's Market, Woodman's, Costco)—so I can get exactly what I need, and have fun browsing the produce selection and thinking up new ideas for what to cook like I used to do. I already have a penciled-in date with a friend to meet at Bloom Bake Shop, and I can't wait to meet up with other friends at places like Pasture and Plenty, Ancora Coffee, Morris Ramen, Casetta and The Old Fashioned. I'm excited for the farmers' markets to reopen someday. Lastly, I'm anxious for the state parks to open up again and to feel safe visiting places like my beloved Pheasant Branch Conservancy and the UW Arboretum without having to worry about social distancing.