By Kristin Dvorak
Like many events and celebrations this year, Halloween is undoubtedly going to look different due to COVID-19. We've got a few ideas of our own for you to still embrace the spooky season — no matter how you choose to celebrate.
For Trick-or-Treaters: Masks, Sanitizer and Social Distancing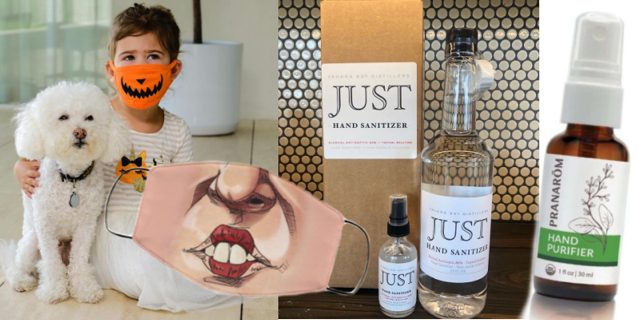 Although many families may choose to forego trick-or-treating this year, there are still little superheroes, monsters and princesses that will opt to haunt the street with their parents. For those folks, the CDC has laid out some safety guidelines for trick-or-treaters here.
Since we've been practicing safety precautions since March, masks, sanitizer and social distancing are probably second nature by now. Regarding masks, plastic costume masks are not as effective as a medical or cloth mask; however, it's dangerous to layer a cloth mask underneath a costume mask, as it can impact yours or your child's breathing. Instead, incorporate the cloth mask into the costume: DIY a matching mask or shop several creative options available on Etsy, like this Hocus Pocus mask or jack-o'-lantern mask.
If you're going door-to-door collecting candy this year with your child, bring hand sanitizer. Sanitize between houses and before you open or eat any treats. Yahara Bay Distillers makes and sells Just Hand Sanitizer locally and The Healthy Place (formerly Apple Wellness) sells Pranarōm's Organic Hand Purifier.
For Hander-Outers: Creative Candy and Sanitizing Stations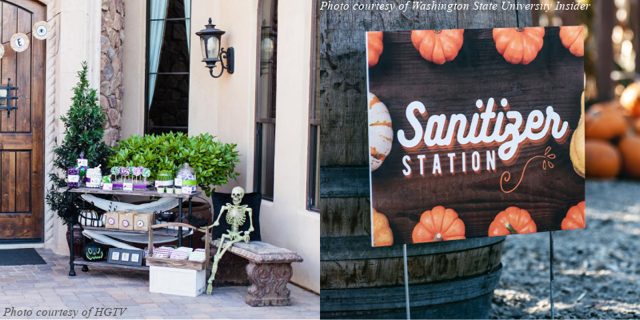 It's just as important for candy hander-outers to wear a mask as it is for trick-or-treaters. To avoid close contact with children and families, consider getting creative. One of this year's trends is to forego traditional candy hand-outs and instead use a cardboard tube or PVC pipe to deliver candy to visitors at a distance. Another idea is to put together individual treat bags or Dixie cups filled with candy and display them on a table in your driveway so children can retrieve their treats without contact. In addition to your creative candy systems, set up a sanitizing station for yourself — if you're handing out candy — or for the ghosts and ghouls stopping by to take their treats.
For Stay-at-Homers: Parties, Scavenger Hunts and Contests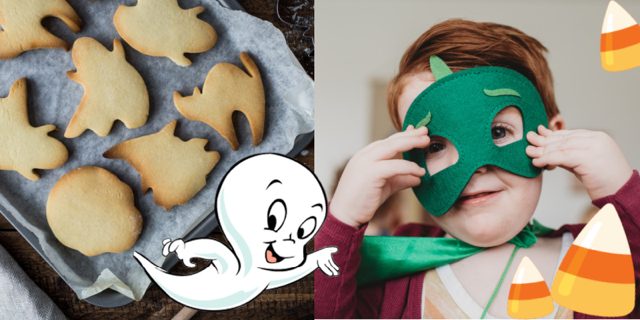 The safety of you and your children comes first, always, which is why this year we're looking at Halloween festivities a little differently. If you plan to stay in, have a family party! Do this in person with your immediate family members or put together a bigger, virtual get-together. Put on a Halloween classic ("Hocus Pocus," "Casper" or any of the "Harry Potters," might we suggest?), bake some scary-good treats and have a candy hunt! Keep kids involved and entertained by building a blanket fort, hosting a costume contest, doing Halloween crafts or setting up a Halloween-themed scavenger hunt around the house.
No matter how you plan to celebrate Halloween this year, remember to mask up, have fun, be safe and wash your hands.
Madison-Area Trick-or-Treat Times — Saturday, Oct. 31
City of Madison, 4–8 p.m.
City of Middleton, 5– 8 p.m.
City of Stoughton, 6– 8 p.m.
City of Sun Prairie, 5– 7 p.m.
City of Verona, 5 – 8 p.m.
Downtown Stoughton, 2– 4 p.m.
Downtown Verona, 3:30–5 p.m.
Fitchburg, 5–7 p.m.
Village of Cottage Grove, 4:30–7 p.m.
Village of DeForest, 5– 7 p.m.
Village of Mount Horeb, 5–7 p.m.