Styling by Shayna Mace | Photography by Shanna Wolf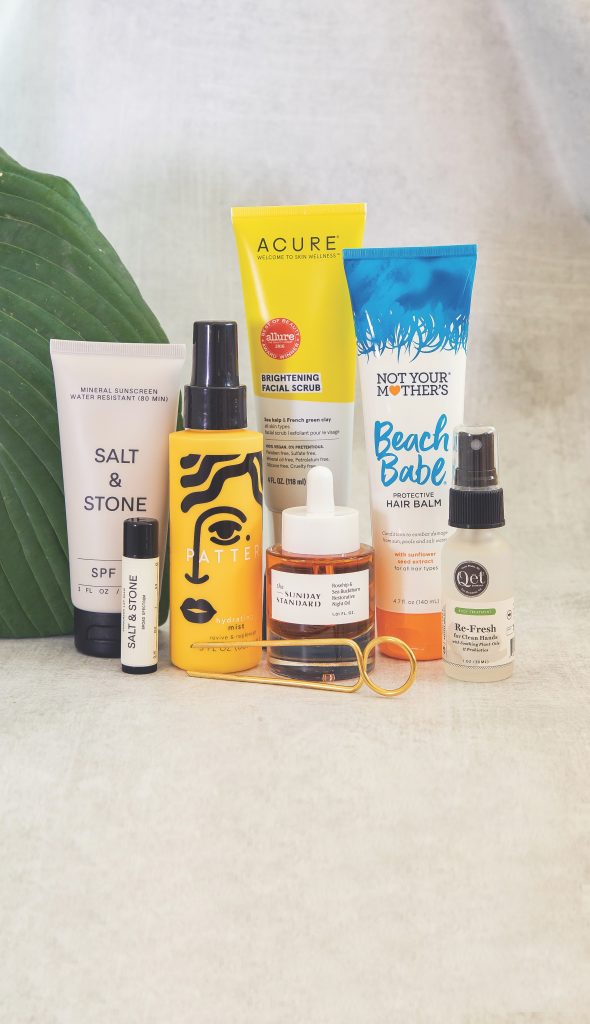 L.A. brand SALT & STONE's SPF 50 zinc oxide-based sunscreen has an extra skin perk: hyaluronic acid, a top-notch skin moisturizer. Also pick up their organic SPF 30 lip balm. $18 and $6, Good Day Shop.
Tracee Ellis Ross' Pattern hair care collection is for the "curliest, coiliest and tightest of textures." The Hydrating Mist refreshes and reactivates curls. $18, Ulta.
Acure's award-winning Brightening Face Scrub has sea kelp and French green clay for a facial pick-me-up. $9.99. Target. Milwaukee-based The Sunday Standard's Rosehip & Sea Buckthorn Night Oil is great for repairing sun-damaged skin. "Its buriti oil … is full of antioxidants, which help to reduce and stop free radical damage from the sun," says founder Emma Zwissler. $74, Good Day Shop.
Local jewelry designer Cire' Alexandria's brass hair stick is perfect for anchoring unruly strands in an updo in the summer. $29, Good Day Shop. Slick on Not Your Mother's Beach Babe Protective Hair Balm before sun exposure for UV protection and moisture. $7.99, Ulta.
Made with peppermint and lavender oils, Qēt Botanicals' Re-Fresh for Clean Hands gives hands on-the-go freshness. $9, Qēt Botanicals.
REFRESHED AND RAVISHING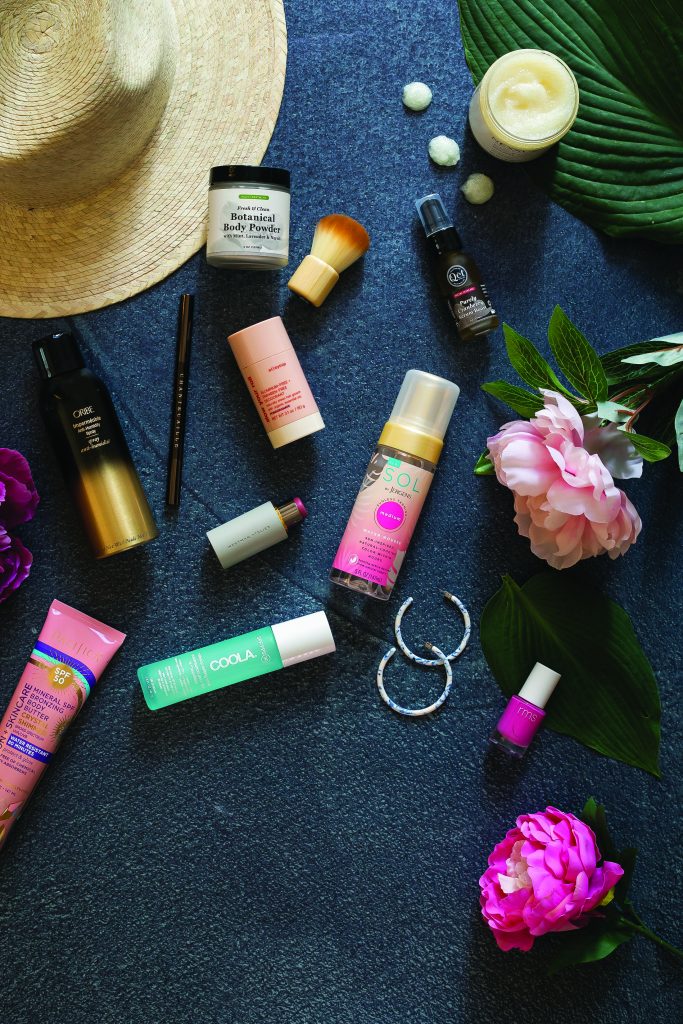 Clockwise from top left:
Communitie Marfa handwoven hat, $69, Good Day Shop
Qēt Botanicals' Botanical Body Powder absorbs dampness and prevents odor-causing bacteria. $30, Qēt Botanicals
Nexxus Clean & Pure Scalp Scrub removes impurities, like product and oil buildup. $14.99, Target
Qēt Botanicals' award-winning Purely Cranberry Serum Boost "fights free radicals and helps prevent photodamage from environmental stresses and damaging UVA/UVB rays." $26, Qēt Botanicals
Jergens' new SOL Sunless Tanning Water Mousse is a no-fuss way to get your bronze on. $23.99, Ulta
MACHETE large hoops, $36, Good Day Shop
RMS Beauty's Sublime nail polish, $15, Arch
Easily reapply face sunscreen throughout the day with COOLA's Makeup Setting Spray with SPF 30. $36, Arch
It's a triple threat: Pacifica's Sun + Skincare SPF 50 lotion has sunscreen, bronzer, moisturizer and shimmer — all in one. $14, Ulta
Westman Atelier's Baby Cheeks Blush Stick in Dou Dou can be used on cheeks and lips. $50, Arch
Oribe's Imperméable Anti-Humidity Spray shields hair from frizz. $42, Arch
Chantecaille's Waterproof Brow Definer keeps brows polished and in check. $36, Arch
Alleyoop's Slow Your Roll All-Natural Deodorant fights odor, smells yummy and inhibits hair growth. $12, Ulta