By Shelby Rowe Moyer
Fashion can feel like a cage or a creative endeavor, and we're here to help you achieve the latter. Reimagine yourself this summer into fall with looks that will never go out of style, from earthy monochromes to electric color pairings to edgy patterns. 
Monochromatic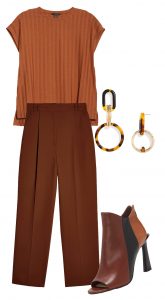 Dripping in sophistication, monochromatic looks are easy to achieve, and you likely already have everything you need to create it. Plus, the colors don't have to be an exact match — if you have bottoms and tops that are the same shade, they'll likely pair well together. Ivory and petal pink are always safe options for monochrome, but we love this chocolatey espresso. Snag a matching trouser and blazer set and wear an earthy blouse with orange undertones underneath for a look that really pops.
Eileen Fisher Cinnamon Ribbed Top, $130; TOPSHOP Dark Brown Twill Slouch Trousers, $90; Halogen Orbital Drop Earrings, $39; Vince Camuto Artiziana Whisk Brown Leather Open-Toe Bootie, $139.
Color Shock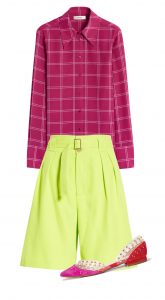 Embrace emboldened hues for a head-turning look. Highlighter yellows and greens are an '80s blast from the past that's back, and we're so happy about it. Lately, we're big fans of a cherry limeade color duo, which feels refreshing and energizing, especially in the summer. Play around with pairings. You'll be surprised how many colors complement each other.
Suistudio Alex Check Silk Blouse, $229; Simon Miller Rost Belted Shorts, $340; Cecelia New York Min two-tone flat, $195.
Pattern Mixing
Layering bold patterns seems to be scary territory for a lot of people. But we're here to nudge you toward the adventurous side — and you can be as wild or subdued as you want — that's the fun of fashion! You can easily tone a look up or down, depending on how eclectic you're feeling. Designers Diane von Furstenberg, Ulla Johnson and Gucci are great places to turn for inspiration.
Here are some tips to help guide you:
Choose patterned garments that are in the same color family and intensity.
Make one piece the focal point and the other an accent.
Create balance. We like to do that with accessories. If you have a bold print on the bottom, you can even it out with a similarly bold scarf, necklace, or hat on top.
Here's one blouse styled two ways:
Quiet and Cool
Diane Von Furstenberg Tulip Garden Navy Britton Cotton-Poplin Blouse, $248; Liverpool Mabel Plaid Wide Leg Ankle Pants, $89; Florescence Jadeite Jella Silk Square Scarf, $178; The Office of Angela Scott Check Mr. Colin Monkstrap, $525.
Femme Punk Rocker
Diane Von Furstenberg Tulip Garden Navy Britton Cotton-Poplin Blouse, $248; English Factory Colorblock Plaid Midi Skirt, $80; 3d Chain Multi Jella Silk Square Scarf, $178; Aquatalia Black Ihana Bootie, $595.
Also try: