By Diana Matthews | Photography by Diana Matthews and Preston Tyler Photography
Try these five tips to bake holiday treats with less mess—and less stress!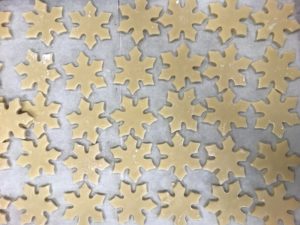 Prep early: Make a big batch of cookies days (or weeks) before the celebration begins by freezing cookies on parchment paper then storing them in an airtight container. This will allow you to later bake a dozen, or simply a few, at your leisure.
Keep it simple: If you are running short on time, don't get carried away with fancy notions of jam filled thumbprint cookies or an entire handmade gingerbread nativity scene. Instead opt for one of these easy sweets which can be prepared in under 30 minutes:

Rice Crispy Treats with holiday colored M&Ms or festive sprinkles
Pretzel rods drizzled with melted chocolate and festive sprinkles
White chocolate-dipped Oreos
Puppy Chow
Candied Nuts

Pick pre-made: If the primary goal is to enjoy quality time with loved ones, break out the boxed mixes, kits and pre-made dough. There's no shame in shortcuts that help you be present and pleasant with family and friends!
Organize a cookie swap: Have your friends, neighbors or coworkers bring their unwrapped presents, giftwrapping supplies and cookies to trade. Guests can savor eats and drinks plus get a head start on gift wrapping before going home with enough cookies to get them through the holiday season.
Attend a Workshop: I am hosting several gingerbread house and cookie workshops at various locations in Madison, Verona and Oregon during the month of December. All baking materials and instructions will be provided. Just show up and do the fun part—assembling and decorating! To find an event near you, checkout facebook.com/ToDiForBaking/events/.