By Katherine Lawless | Photography by Shanna Wolf
Thinking green can extend to the skin and body products you use. Luckily, we have a wealth of local female entrepreneurs that offer skincare with clean, natural ingredients to help you feel relaxed and refreshed.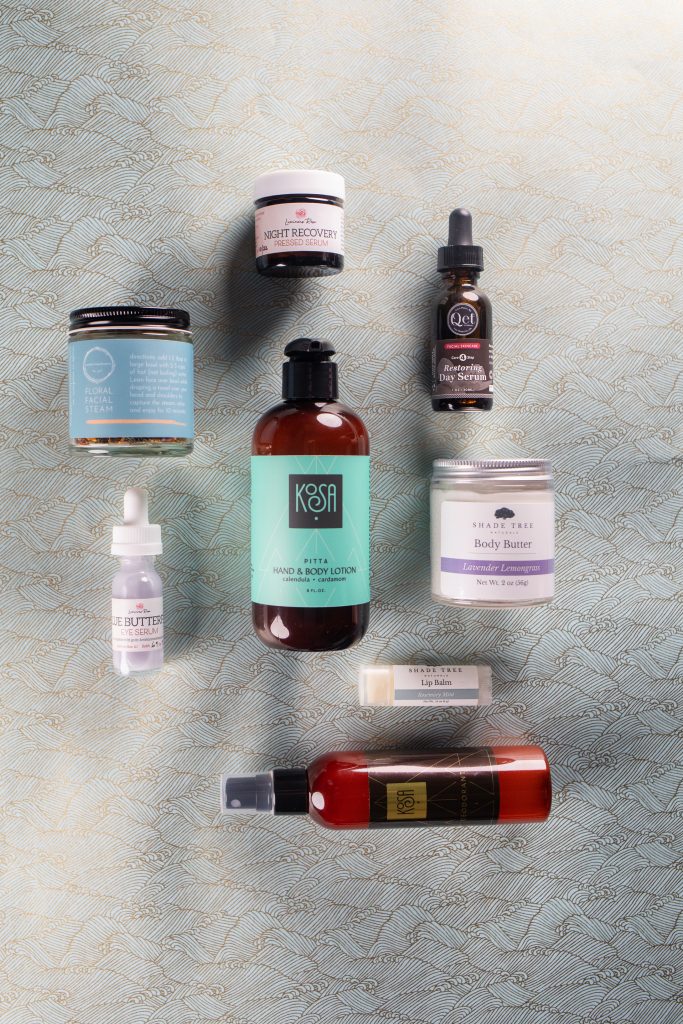 Clockwise from top left:
Editor's Note: Stay tuned…starting April 1, you can enter to win one of FOUR giveaway baskets, featuring these amazing products! You don't want to miss this contest!
SHADE TREE NATURALS
As a mother and doula, Tara Parish is well attuned to the needs of postpartum parents and babies. That's why Shade Tree Natural products use ingredients that work for even her most sensitive clients, preferring to use locally-sourced beeswax and honey, and other fair-trade ingredients. Popular products like the Sleepy Baby Essential Oil Blend and Lavender Lemongrass Body Butter are formulated to be gentle and natural, perfect for soothing the skin of newborns and their caretakers. shadetreenaturals.com
QĒT BOTANICALS
For Lisa Brill of Qēt Botanicals, creating organic, natural skincare has been a personal journey. After her own difficulties with rosacea and acne, Brill wanted to share the skincare solutions she discovered with others, leading to a skincare line and business philosophy that champions confidence in the natural you as the new and improved beauty standard.
Qēt Botanicals Suite sets make it easy for those beginning to embrace natural skincare to try several products in sample size. Choose from a variety of haircare, bodycare and skincare packages formulated with natural oils (carrot, raspberry, rose) that help hydrate, balance and restore the skin. qetbotanicals.com
PERFECT IMPERFECTIONS 608
Jasmine Banks (one of BRAVA's 2021 Women to Watch!) is a local entrepreneur whose passion for wellness can be summed up in one of her signature sayings: "Self-care is a divine responsibility."
After Banks' mother passed away in 2012, she began to examine how the products she used on her skin every day could affect her health long-term. Banks then began sharing the results of her research through "Mine vs. Yours"-style Facebook posts to show her friends the natural alternatives she made for deodorants and body butters. Her posts drew quite a bit of positive attention, leading Banks to create Perfect Imperfections 608, a name that nods to her own philosophy on beauty and the close relationship she had with her late father.
Products are handmade in small batches, packaged in reusable materials and are chock-full of soothing ingredients like coconut oil and goat's milk. Her products, like the Lemon & Sage Whipped Body Butter and Floral Facial Steam, encourage users to take time for themselves through simple acts of self-care. perfectimperfections608.org
LUMINOUS ROSE BEAUTY
Founder and formulator Maria Henry studied at Formula Botanica and the School of Natural Skincare International to create her own COSMOs-certified skincare and haircare products (which means 95% of the plant compounds used are organic). Thus, her line is plant-based and free of synthetic ingredients. Henry, whose business is based just outside of Madison, also helps her clients make the best choices for their skin by listing and explaining each ingredient's properties on her website.
"You can have an honest product [and] have products that work … and are good for you and the environment," says Henry.
The brand's shampoo and conditioner bars (like blue tansy and bamboo) have a low carbon footprint, little packaging and offer a concentrated product for more bang for your buck. Henry's personal favorite product is the Night Recovery Pressed Serum, made with ucuuba, peach kernel, kiwi and lupin seed oil to stimulate collagen in the skin and slow signs of aging. luminousrosebeauty.com
KOSA SPA
To KOSA Spa founder Shilpa Sankaran, wellness and beauty are "not about elimination, but rather about nourishing the good." Sankaran created her KOSA Spa skincare line as a pandemic project in the hopes that the products would be an extension of her spa (which is located at Garver Feed Mill), for use at home. The products, which include skin, body and hair care, use ingredients such as baobob oil, aloe, rose and lavender. They're formulated according to Ayurvedic sciences, a practice that involves balancing the skin's need to be hydrated, soothed, warmed or revived. And, they provide a delicious aromatherapy spa experience, too.
"With aromatherapy, you're working on your mind and body at the same time. When you take a shower, there's a deliberate, intentional purpose behind those smells," says Sankaran. kosaspa.com