GETTING EXTREME
What drives a woman to step in the ring and face down an opponent? Run 50 miles, or maybe 100? Build a body worthy of competition? Three local athletes share their extreme sport experiences, what makes them tick and how we can all strive to be more.
By Emily Leas |  Photographed by Josh Witzel
---
"NEVER LET 'NO' BE THE REASON YOU STOP."
LET 'NO' PUSH YOU TOWARD SUCCESS. "OFTEN TIMES WE'RE OUR OWN TOUGHEST OPPONENT…IF YOU LET YOURSELF LISTEN TO THOSE WHO DON'T BELIEVE YOU CAN DO IT, IT'S EASY TO STOP PUSHING." NELSON ENCOURAGES THE ATHLETES SHE NOW COACHES TO FIND THEIR LIMITS, AND TRAIN TO BEAT THEIR OPPONENTS AND THEIR OWN DEMONS.
Tromping through the woods with her dad, cutting down trees, clearing brush. This was how retired professional boxer Andrea Nelson spent her childhood.
"I don't know if I'd call myself a tomboy, but I always rebelled against gender roles," Nelson says. "If something was a little scary, or someone said 'you probably shouldn't do that,' I was drawn to it, just to prove that I could do it."
This mentality is what lured Nelson to martial arts in her mid-20s (where she earned a FIrst-degree black belt in Okinawa weaponry), and ultimately professional boxing in her early 30s.
Nelson partnered with Bob Lynch, trainer to Olympic and professional boxers, and coach at Ford's Gym in Madison, and was immediately hooked.
"It's something about the challenge of it being just you and someone else, toe to toe, in the ring," she says. "It's more like you're fighting yourself. Getting in there and attacking your own demons."
As the only female boxer in Madison in the early 2000s, Nelson had trouble finding amateur fights. So she trained harder—"almost obsessively," she says— turned professional and pushed herself to a 9 win, 1 draw and 1 loss record.
Nelson attributes the lack of female fights partially to the promoters and the public. "They were never really sure how to promote it, and the public wasn't sure they wanted to see two physically strong women fighting," she says.
From inside the ring, Nelson saw herself as an athlete, but outside the ring, the promoters wanted to sexualize the sport. When Nelson was competing, it was often the former Playboy bunny, fake boobs and tight shorts that got the top billing.
After retiring in 2003, Nelson admits the transition was hard.
"I was pretty depressed," she says. "Boxing had absorbed my every waking moment for years. It was really hard to quit."
Instead of throwing away her years of experience in the ring, Nelson went back to school for a degree in sports medicine, and now coaches classes and private lessons at Ford's Gym.
On top of that, she had a couple of kids and started her own prairie restoration business.
"I'm always pushing myself," she says. "When I'm challenging myself, that's how I know I'm succeeding."
---
"MY BODY IS MY VEHICLE."
GOING THE DISTANCE REQUIRES TRAINING AND SELF-MOTIVATION. KNOW YOUR BODY'S CUES WHEN THINGS AREN'T RIGHT. "EVERYONE IS DIFFERENT. I KNOW THAT WHEN I GET EMOTIONAL DURING A RACE, I NEED SOME GEL, SUGAR, LIQUID, FOOD. SOME PEOPLE GET IRRITABLE OR LESS COORDINATED. KNOWING HOW YOUR BODY REACTS TO STRESS WILL HELP YOU GO FARTHER," SAYS HEASLETT.
Until she was 32, psychiatrist Ann Heaslett couldn't imagine running longer than the 5K and 10K distance she had mastered at UW-La Crosse. Then she ran a marathon. Then a 50K (31 miles). Then a 50-mile race. Then a 100K (62.1 miles), a 100-mile and a 24-hour race.
To most people, even most runners, these distances sound daunting, and let's admit it, a little nuts.
Heaslett says that before her first 50-mile race at the Ice Age Trail 50 in 1999, she even thought to herself, "I can't imagine running 50 miles. A 50K sounds so far. When I drive in my car that seems really far!"
She earned second place at that event. This unexpected performance catapulted Heaslett to the national stage, and eventually, the world stage when she qualified for the 100K World Championship in 2000, and 2002-2005.
What motivates a person to start running these distances?
"It was a scary transition," says Heaslett. "But I was finding success and it gave me such confidence and motivation to push forward. And I received excellent mentoring from my experienced running friends."
Heaslett says the mentoring and coaching was critical because there is so much preparation for a race that could last eight to 12 hours, from the shoes to the fuel, the right clothing, and ultimately, the mental tenacity to push through to the end.
"During races, I often find myself questioning my training…maybe I should have done more speed work or maybe my longest long run wasn't long enough," she says. "I try to put those thoughts out of my mind, but do use them later to try to motivate myself to get out the door when training for my next event."
Training for ultra distances at a competitive level, often running 70 to 100 miles per week, takes its toll on any body, so after the 2005 season, Heaslett took a couple of years off.
As a clinical psychiatrist working with chronic inpatients at Mendota Mental Health, Heaslett now uses running as a way to relieve stress.
"In my job, the pace at which my patients improve is slow and there is very little closure," she says. "I may have spent all day working with a patient that will always need care, but I can escape to my run, do it, and it's complete. It really balances things in my head."
As Heaslett dives into her early 50s, her pace may have slowed, but her competitive spirit has not.
"As I've aged, I've had to change the way I define success and in turn how I define my goals for competition," she says. "It's about knowing that maintaining is just as good as improving."
Now, instead of going for first place in a 100-miler, Heaslett targets other 50 year olds and is crushing age group records across the country.
---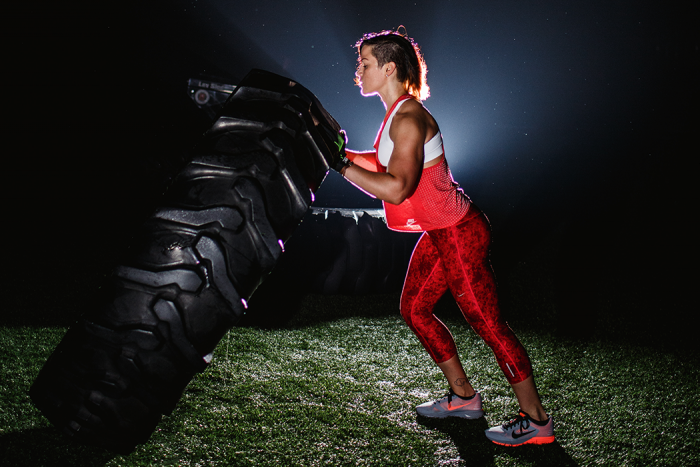 THE BODY BUILDER
CHRISTINE SCHMIEDEN
"THE MOST IMPORTANT THING TO DO IS FIND SOMETHING YOU LOVE."
"IF YOU TRY TO FIT YOURSELF INTO A MOLD, OR TO BE LIKE A SPECIFIC PERSON, SUCCESS WILL BE HARD TO ACHIEVE… TAKE A STEP BACK AND ASSESS WHAT SUCCESS MEANS TO YOU. WHAT ARE YOUR GOALS? WHAT DO YOU ENJOY? THEN PRIORITIZE IT IN YOUR LIFE AND MAKE IT HAPPEN."
For many of us, getting on a stage to be judged on our physique, muscle definition and the artistic presentation of both sounds terrifying. You might even say "extreme." For Christine Schmieden, senior public affairs specialist with the UW School of Medicine Department of Surgery and a professional bodybuilder, the stage is where she comes alive.
An avid athlete from a young age, Schmieden says weightlifting and bodybuilding is the pursuit of her passion, and the pursuit of the best version of herself.
After completing her MBA in Chicago five years ago, Schmieden moved to Madison for her professional career with the UW, and knew it was time to make bodybuilding a priority. The first step was finding a coach.
"I recommend that to anyone who wants to take their sport or their passion to the next level," she says. "Work with someone who has competed at the level you're striving for, is certified and has a good track record."
She also notes it's important to find someone you enjoy being around because you'll end up spending a lot of time together. For Schmieden, it's up at 4 a.m. for weightlifting and conditioning, then back in the gym at 5 p.m.
"When I leave work, I want to go to the gym," she stresses. "But with any goal in life, you sometimes have to make sacrifices to get there. For me, I sacrifice sleep."
She recalls her first competition four years ago.
"I remember my family was there to support me," she says smiling. "They said that when I got on that stage, I was beaming. Just the way I carried myself, they knew that was where I was supposed to be."
Now, with a few years of competition under her belt, thousands of hours in the gym, and the physique to show for it, Schmieden is often approached for nutrition and training advice. She also knows that looking like a professional bodybuilder can bring negative feedback.
"There is a lot of bullying and claims of steroid use, and sure, that's out there. But I've made a commitment to be a natural athlete," she says. "I think it's important that we celebrate each other's successes and differences, instead of putting each other down."
She continues by noting that although a subjective panel of judges determine the outcome of the competition, her own success comes from knowing how hard she worked to get on that stage…the hours in the gym, the up at 4 a.m., and the amount of care and attention to everything she puts in her body.
"I have to pull motivation from within myself. But this is my passion. And whatever your passion, pursue it. Whatever it is that you love, that's what you should be doing."