Eat, drink and be merry to your heart's content this holiday season— and preferably start the party before noon.
By Rachel Werner
Styled by Ann Christianson and Sunny Frantz
Photographed by Sunny Frantz
Drunken Steak and Egg Tacos by Otehlia Cassidy
Cheese and Charcuterie Board by Alice Choi
Holiday Cake by Shawn Bolduc
Ponche Crema Venezolano by Sujhey Beisser
Floral Design by Rooted Floral Company Seasonal Pastries by Bloom Bake Shop
Shot on location at Industrious Madison
Foodie Magic
Alice Choi's fondness for all things cheese and charcuterie ripened after moving to Wisconsin. Here's what you'll need to assemble an Instagram-worthy spread like her's: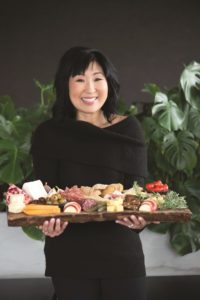 Cheese: Use a variety of different cheeses (sharp, mild, earthy) in various textures, forms and colors. Choi's fave Wisconsin cheesemakers are Sartori and Roth.
Charcuterie: She recommends incorporating prosciutto, salami and Soppressata by folding and slicing in assorted shapes.
Fruit: Dried, fresh—or what's in season.
Crackers: Variety is key.
Nuts: Almonds, candied walnuts, pecans and Marcona almonds.
Pickled Foods: Add interesting pickled vegetables like cornichons (pickled French gherkins), beets and asparagus.
Olives: Green and black varietals.
Jams or Preserves: Make sweet accoutrements.
Platter: Serve on a board or large platter. Choi prefers large wood boards like the one featured here from Rescued Woodworks, a local company that uses rescued, urban wood.
Don't miss BRAVA's Entrée on Choi coming later this month.
Perfect Meringue!
Whether piled sky-high atop a pie or cake, this simple meringue makes for a festive treat.
Ingredients:
¾ cup granulated sugar
3 large egg whites
Pinch of Cream of Tartar (optional)
1 teaspoon vanilla (or any other flavoring)
Directions:
Combine egg whites, sugar and Cream of Tartar in a heatproof bowl from a stand mixer, then whisk to combine.
Create a double boiler by filling a pot with about 2 inches of water and bring to a simmer over medium heat. Place the bowl with the egg white mixture on top of the pot. (Do not let the pot touch the simmering water.)
Heat the egg white mixture until all of the sugar has dissolved at approximately 160 degrees, mixing occasionally.
Return the bowl to the stand mixer and using the whisk attachment, gradually stir on high speed for about 5 minutes until shiny, medium-stiff peaks form.
Add your flavoring at the last second and briefly whisk to incorporate.
Now the meringue can be used on top of a pie and torched for that perfect rustic effect.
Try adding a teaspoon of bourbon or a fave liquor for added holiday spirit!
Drunken Steak & Egg Tacos
Savor Madison Eats Food Tours founder Otehlia Cassidy's crowdpleasing brunch entrée Steak and Egg Borrachos
Ingredients:
1 pound thin sliced beef
1 teaspoon ground cumin
2 teaspoons ground guajillo chile pepper
1 large garlic clove (crushed)
1 ripe plantain (fried)
12 eggs
1/3 cup Mezcal
½ of a lime
Directions:
Heat a generous layer of canola oil in a pan to medium high. Peel and slice the plantain into ¼ inch slices. Fry in single layer until golden on each side.
Mix together adobo sauce: ½ cup water, 1½ teaspoons achiote (powder or paste) and 3-4 tablespoons brown sugar. Set aside. Put Mezcal in a measuring cup.
Heat a non-reactive pan with a few drops of canola oil to medium heat. Coat beef with spices and garlic, rubbing to mix evenly on slices before cooking in a single layer and heating on each side until brown. Once cool, slice into strips.
After the beef is cooked, heat pan to medium-low and quickly pour in the Mezcal. Stir to scrape any meat off the pan for about 30 seconds, then add the adobo mixture, stirring for an additional one or two minutes.
As the sauce bubbles and thickens, add lime juice and stir again. Test for sweetness and adjust sugar and lime juice accordingly. Remove the sauce from heat once desired consistency is reached.
Assemble by placing beef strips on warmed corn tortillas. Add a few pieces of plantain, avocado slices (if desired) and drizzle with sauce. Garnish with cilantro, pepper and a squeeze of lime. Serve with fried or scrambled eggs.
Enjoy! madisoneatsfoodtours.com.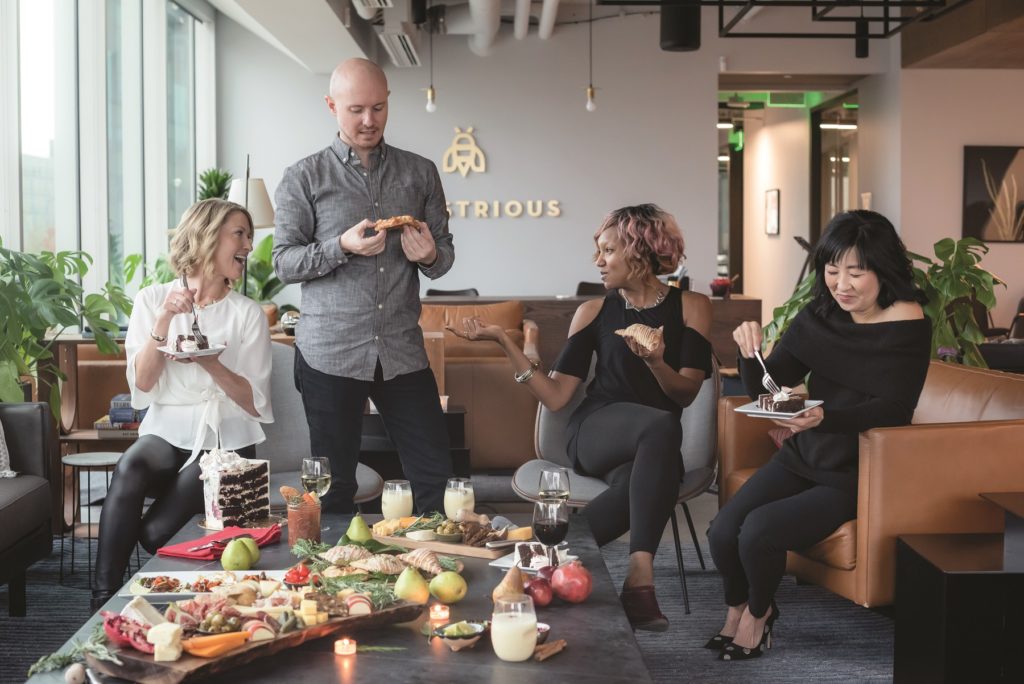 New Year's Toast
Cap off 2018 with a cup of Venezuelan eggnog, courtesy of Five Senses Palate blogger and personal chef Sujhey Beisser.
Ingredients: (Makes 8-10 servings)
2 egg yolks
1 packet Spanish flan
½ gallon milk
1 cup almond milk
1 can condensed milk
1 ½ cups light rum
1 tablespoon vanilla extract
1 teaspoon ground nutmeg
Directions:
 In a medium sauce pan, add egg yolks, flan powder, vanilla extract, nutmeg and two cups of milk.
Place the pan over medium heat. Cook, stirring constantly, until it thickens (about five minutes). Stir continuously to avoid the mixture curdling. Let cool slightly.
In a blender, mix condensed milk, almond milk and rum.
Add the egg mixture, and blend again, until creamy.
Transfer to a big bowl and whisk in the remaining milk.  Consistency should be smooth and creamy.
Strain any lumps using a fine mesh. Transfer to a serving jar or glass bottle with a lid and refrigerate.
Shake or stir before serving over ice in tumblers with a sprinkle of nutmeg.
¡Salud! fivesensespalate.com.
Sugar'n Spice
Accoutrements
For those feeling rushed to pull off a party in a pinch, let Bloom Bake Shop save the day. Their pastry case is stocked through month's end with apple turnovers, pumpkin pop tarts, seasonal galettes and plenty of treats rocking a maple or peppermint glaze. Also consider taking a few Bloody Marys a la carte to create for your guests using Bloom's house made Bloody Mary mix, morsels of gouda, pickled red onion and pickled carrot on a garnish stick—plus the sweet potato doughnut half nestled next to a sprig of rosemary for a final flourish.