By Shelby Deering | Photo Courtesy Blue Shutters Photography
There's a travel trend that's right at home in Wisconsin— agritourism. Visitors book a stay at a farm outfitted with accommodations and enjoy the country charm. Guests create memories alongside cows, beehives and natural beauty, or, they can even join in the farm work. Get ready to explore these six idyllic Wisconsin farm stays.
Sabamba Alpaca Ranch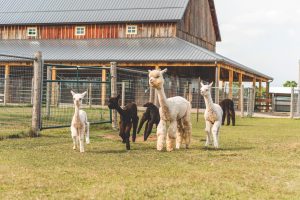 We can all agree that alpacas are adorable, and you can see 50 of their fuzzy faces at De Pere's Sabamba Alpaca Ranch. Sally Schmidt and her husband, Tom, started a bed-and-breakfast on their 12.5-acre property in 2009. When guests aren't relaxing in one of the B&B's two clas- sic, comfortable rooms or eating a homemade breakfast, you'll find them spending quality time with the alpacas. "When a guest books, we ask them if they would like to interact with the alpacas while staying with us," Sally Schmidt says. "If they would like to be interactive, they may wish to help with chores, walk with the alpacas or take a photo with an alpaca." Tours are also offered.
After hanging out with Silver Rose, Mercedes or Twinkles (yes, those are some of the alpacas' real names!), you can kick back in your accommodations outfitted with private baths, Wi-Fi, or a whirlpool tub or electric fireplace.
Fun Fact: On the Sabamba Alpaca Ranch website, there's a list of due dates for when baby alpacas will be arriving. Also known as a cria, guests can time their stay to see a baby alpaca being born.
Spur of the Moment Ranch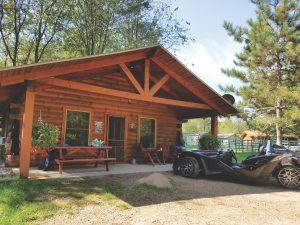 If you've ever had a dream to stay at a real horse ranch, this is your chance. Spur of the Moment Ranch is a northern Wisconsin destination that lies in the heart of the Chequamegon-Nicolet National Forest. You can choose from four inviting log cabins with fireplaces, kitchens and bathrooms; four rustic cabins with a shared bathhouse; or five RV campsites (guests bring their own RV). But the true stars of the show are the horses. There are several opportunities to have one-on-one time with the equine residents, including trail rides, carriage rides or you can book an "encounter" as it's called, where you'll learn about basic horse care, saddling and riding.
Owner Ann Maletzke, who has been running the ranch for 19 years, says that kids particularly love to feed the horses. She says, "Many of our young guests enjoy feed- ing time at the ranch and are invited to join us for that activity either in the morning or evening."
Fun Fact: The ranch is very animal-friendly. Dogs are allowed in all cabins (with an extra cleaning charge) and guests' horses frequent the ranch as well. "Last year, we probably had over 500 of them stay with us," Maletzke says.
Campo di Bella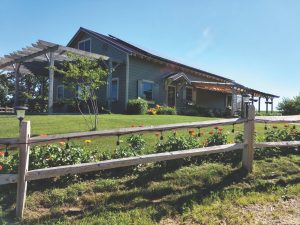 If you've ever dreamed of venturing to the Italian countryside to lounge the day away at an authentic vineyard, you're in luck. You won't even need to buy a plane ticket to travel to Campo di Bella, a bucolic farm stay and winery located nearby in Mount Horeb. In a private retreat that resides on the second floor of the winery, you'll enjoy cedar surroundings and a plush king bed as you take in the other enchanting aspects of this farm. Take yourself on a self-guided tour to view the Frontenac and Petite Pearl grapes in the vineyard. Revel in farm- to-table cuisine at the on-site restaurant, where you'll savor local cheeses, homemade meatballs and real-deal minestrone (dinner reservations are typically held for farm stay guests). Stroll the 20 acres of farmland as you view sheep, chickens, ducks, bees and a beloved farm dog named Stella.
Fun Fact: You're welcome to taste Campo di Bella's delicious libations on the weekend. You're sure to love the Campo di Bella Rose 2018 Vermouth, crafted with Wisconsin grapes, Michigan brandy and mulled Penzeys spices. There are also plenty of international selections available to tempt your pal- ate, from France to Germany to Portugal to Italy, of course.
Circle M Market Farm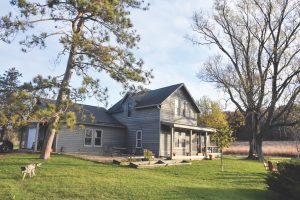 Less than an hour from Madison in Blanchardville, Circle M Market Farm B&B is a certified-organic veggie and fruit farm with diverse animals, including sheep. This property that wholeheartedly embodies the farm-to-table spirit is where you can see your farmers' market goodies brought to life. Book a stay at the farm's stylish accommodations, which include lovingly-restored vintage travel trailers and two rooms in the 135-year-old farmhouse. There are near- endless activities provided to guests, anything from helping milk goats to taking a class in knitting, spinning, felting or soap-making, and you can even get your hands dirty with some chores on the farm. "Often, guests will come prepared to help with carpentry projects and barn painting," owner and manager Kriss Marion says. "And there is always lots of weeding in the veggie and flower gardens!"
And, you'd be pretty hard-pressed to find a fresher breakfast than the one that's served to guests at Circle M Market Farm. Marion says, "We serve huge, multi-course breakfasts that feature our own meats and lots of our own veggies."
Fun Fact: Have you ever wanted to learn how to knit with just-sheared wool? Marion says that she sells her own wool and teaches beginning spinning classes right next to the sheep.
Rainbow Ridge Farms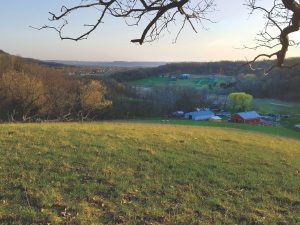 Over 20 years ago, Cindy Hoehne and Donna Murphy found a beautiful piece of property in Onalaska and planned to start a farm and bed-and-breakfast on the 35 acres. Dubbed Rainbow Ridge Farms, Murphy says the name is appropriate: "We frequently see rainbows up on the ridge. Once, the rainbow even stopped in our pasture. We looked for the pot of gold but realized that our farm is the pot of gold."
Today, the farm is home to a B&B equipped with four guest rooms, all with private baths. Expanded continental breakfasts are offered on weekdays, and a full, stick-to- your-ribs breakfast is whipped up on the weekends.
The property brims with a plethora of farm animals, including goats, donkeys, a llama, pigs, chickens, cats and dogs. Guests are invited to participate in many activities. Up for milking the goats or goat yoga? Collecting eggs? Feeding the pigs? Visiting the pumpkin patch? Whatever your whim, you can have an authentic, pull-your-boots- on farm experience at Rainbow Ridge Farms.
Fun Fact: Donna says that guests really enjoy a tree nicknamed the "Monkey Tree" because goats love to climb up into the tree. Oftentimes, adventurous guests will join them in the tree- climbing fun!
Whitefish Bay Farm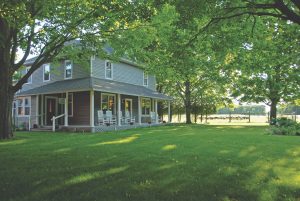 With its cherry groves and lavender fields, it makes perfect sense that Door County is home to a lovely farm stay dotted with flocks of sheep: Whitefish Bay Farm. Nestled just north of Sturgeon Bay, innkeepers Dick and Gretchen Regnery, (who are both also shepherds and fiber artists), have been operating the farm for 36 years. Their sheep produce wool sold world- wide, all while guests soak up the atmosphere of the charming bed and breakfast readied with four guestrooms. After eating a hearty breakfast, you can visit the on-site art gallery, watch Dick and Gretchen weave, spin and dye their fiber creations and of course, visit with the sheep during a tour.
Gretchen says that amiable sheep often welcome tour participants to the pasture. "Currently our 'official greeter' is Cinnabun," she says. Gretchen explains that during the tour, guests are encouraged to ask questions about raising sheep, wool production and grazing. "Our guests usually have a wonderful time socializing with some of the world's friendliest sheep," she says.
Fun Fact: Dick shares that they raise Corriedale sheep, which are highly regarded for producing fine, soft, garment-quality wool. They've had as many as 145 sheep, and currently they have 79.