By Shelby Deering | Photo by Tateana Jones
Lavender and its many uses span the centuries. It was used in incense in ancient cultures. It's said that Cleopatra wore lavender perfume. During the 17th century, people donned lavender on their wrists, believing it protected them from the plague.
The aromatic herb has always been prized for its pacifying scent — studies have proven that it can decrease anxiety. With everything going on in the world, there's a chance that, for our mental health and wellbeing, lavender might just be more important than ever.
Although it may seem surprising, lavender can survive, and thrive beautifully in Wisconsin. As long as it's a hardy variety that can withstand Midwestern winters and is planted in full sun, a place like Baraboo — far from its historic roots in Egypt and the Mediterranean region — can be home to lavender.
Luckily, you can fully immerse yourself in sprawling, purple fields of lavender, located less than an hour from Madison.
Baraboo's New Life Lavender & Cherry Farm provides a full-scale lavender experience. It offers farm-to- table wagon tours where you can view rows upon rows of lavender plants, thriving cherry trees and a wildflower sanctuary for bees, all while enjoying the Baraboo Bluffs in the background. You can purchase lavender products in the gift shop or visit a custom essential oil blending bar. Then there's the expansive selection of lavender foods: lavender ice cream, drinks and cupcakes.
In light of the current pandemic, staff are encouraging guests make online reservations for the farm tours.
To experience New Life Lavender & Cherry Farm from afar, you can order a pre-made lavender bouquet that can be picked up locally, or, you can always shop the website at newlifelavender.com.
Rowley Creek Lavender Farm is also located in Baraboo. Dotted by gorgeous lavender plants, the farm is open by appointment only. During your visit, you're welcome to roam the fields, purchase lavender skincare products and delight in the farm's signature lavender honey, made by bees right on the property. There are also options for small group events. Book your visit on the website: rowleycreekfarm.com.
LET THE LAVENDER LINGER
Still craving lavender, even after you've left the farms? Here are some ways to enjoy all things lavender here in Madison.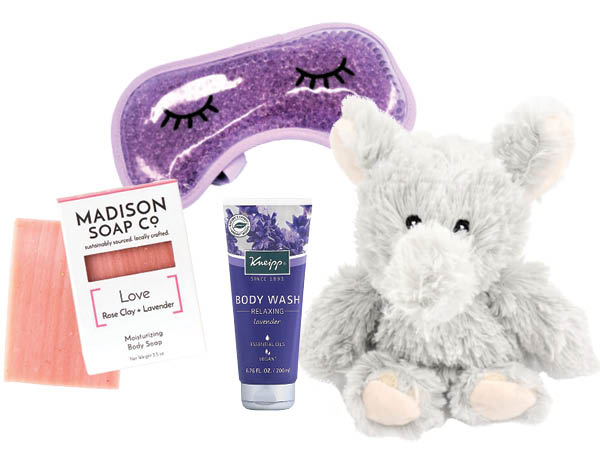 Madison's very own Calliope Ice Cream makes a fresh and delicious Lemon Lavender flavor — otherwise known as the treat for summer.
State Street's iconic bath and body shop The Soap Opera offers several calming lavender products, from bubble bath to lip scrub and even microwaveable, lavender-filled stuffed animals.
To taste lavender in all its glory, go to Barriques for their famous Honey Lavender Latte.
Prefer an iced beverage? Ancora has a Lavender Lemonade customers adore.
For locally-sourced soap with a hint of lavender, look no further than the Love Rose Clay + Lavender Bar Soap crafted by Madison Soap Company.