By Rachel Werner  |  Photographed by Hillary Schave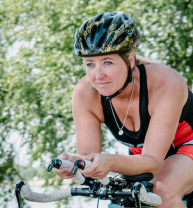 Ready to flip the switch and make this summer your best and fittest one yet? Use these tips from Madison triathlete Jen Anderson and avid cyclist Cassandra Habel to meet your summer fitness goal—whether it's running a race or riding a half-century.
1. SET A GOAL: Try something new this summer! Hop on a paddle board, check out a new yoga class or sign up for your first 5K. "Set a goal to accomplish by the end of summer and have fun working toward that as the season goes on," says Anderson.
2. SEARCH FOR DEALS: Fitness centers often offer discounts during the summer. Peruse Groupon or gym and fitness studio websites for trial offers or new- member deals.
3. FIND YOUR TRIBE: Local athletic specialty stores and bike shops coordinate free weekly group runs and bike rides. Anderson also suggests starting your own by asking neighbors, co-workers or friends to join you for a jog. "Having a group will help keep you accountable and make your workouts and training sessions more fun," she says.
4. BUY A STATE PARK PASS: Wisconsin has tons of natural terrain for outdoor recreation. From the hiking trails and beach at Governor Nelson State Park to the bluffs at Devil's Lake, there are infinite opportunities to get active outside.
5. ASSESS YOUR GEAR: If you own a bike or are saving for a new one, be sure to get a professional fit. Habel says, "Bike fitting is something many people feel is only for professional riders or for people who ride hundreds of miles a week, which is not true! Bike fitting is a wonderful way to enjoy your bike and make sure it is dialed specifically to your body." And spring for a high-quality pair of bike shorts so you can ride longer and more comfortably. Anderson and Habel also suggest getting the best footwear for your sport. Have your stride evaluated for optimal support when you're on the move.
6. STAY COOL: Hats, visors and sunglasses offer sun protection and lightweight, moisture-wicking clothing can prevent overheating. "Drink lots of water [aim for up to 13 cups a day] and use SPF30 or higher," Anderson says. "Try to schedule activity early in the mornings or late in the evenings to take advantage of cooler temperatures, decreased traffic and less populated activity spots." –