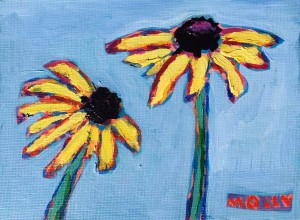 Help Birds, Bees and Butterflies Thrive
By Marni McEntee, Illustrated by Molly Krolczyk
What are the best plants for your backyard to help struggling pollinators survive?  BRAVA asked experts Matt Reetz, executive director of the Madison Audubon Society, Cindy Cary, a chief horticulturist at Olbrich Botanical Gardens, and Nathan Clarke, owner of Mad Urban Bees.
Below are their top picks and also some suggestions from the Natural Resources Defense Council on how best to design your native plant garden.
Reetz, on birds:
Bushes:  Chokecherry or dogwoods attract Cedar Waxwings, Northern Flicker, Wood Thrush, Red-eyed Vireo, Baltimore Oriole, Scarlet Tanager and
Rose-breasted Grosbeak.
Flowers:  Aster. Its seeds are eaten by the American Goldfinch, Black-Capped Chickadees and Indigo Buntings; it also attracts butterflies.
Helianthus Sunflowers. Its seeds are eaten by Chickadees, Finches and Eastern Meadowlarks.
Blazing Stars: These purple-tipped spears attract a variety of birds and butterflies.
Bluestem grasses: Attract Dark-Eyed Juncos and Sparrows.
Cary on butterflies: 
Native milkweed plants such as Aesclepias tuberosa or Aesclepias incarnate are larval host plants for the Monarch and the flowers are also attractive to other species.
Others that attract butterflies: Butterfly Bush, Catmint, Joe-Pye Weed and Purple Coneflower; butterflies like the latter two as well.
Clarke, on bees: Dandelions, Bee Balm, Wild Indigo, Goldenrod and Fireweed.
See more on attracting pollinators on P. 38 of BRAVA's May edition. 
The Natural Resources Defense Council's tips for a pollinator-loving garden.
Try leave it alone gardening.  Stop obsessing over perfectly planted flower beds and a weed-free lawn. Treat your garden as a wildlife habitat.
Go native.  Local plants match the needs of nearby pollinators. Find an excellent list at the Xerces Society, which works to protect invertebrate species, at xerces.org. (See BRAVAmagazine.com for information about several native plant nurseries located near Madison.)
Mix it up.  Choose plants of all shapes and colors that will bloom from early spring to late fall. Plant in clumps to make it easier for pollinators to find.
Stop spraying pesticides. The No. 1 threat to pollinators is neonicotinoid (or neonic) pesticides. Not only are they most toxic to bees, butterflies and other insects, but they're also systemic. When applied, these poisons make their way throughout the entire plant—including the pollen and nectar.
Shop smart.  A 2014 report by Friends of the Earth found that 51 percent of plant samples purchased at top garden stores in the U.S. and Canada contained neonicotinoids.
Plant milkweed.  "In 1997, more than 1 billion monarch butterflies were recorded during their annual migration from the United States to Mexico for the winter; now that number is less than 57 million," the NRDC says. Monarchs need milkweed to survive.
Just add water.  Shallow pools will attract pollinators. A birdbath works. Provide some pebbles or rocks as "islands" in the dish so pollinators, especially small bees, won't drown.
Excerpted with the NRDC's permission. nrdc.org.