By Shayna Mace | Photography by Shanna Wolf
"Give the lady what she wants," Lynn McFee tells me, referencing department store magnate Marshall Field's famous saying. She's referring to her retail philosophy at McFee on Main, her beautifully-appointed home décor and clothing boutique nestled on Mount Horeb's main drag. McFee just celebrated her shop's fourth anniversary this past September.
Prior to owning her boutique, McFee had a long career in Chicago and New York City with Ralph Lauren's men's, women's and home divisions. Using the expertise she gained from her 30-year career, McFee skillfully mixes home items (tea towels, utensils, blankets), baby gifts, accessories and clothing in her two-story shop.
McFee especially enjoys hand-selecting the clothing she carries, which are all pieces that are wearable for everyday — with a stylish bent (see the leopard coat below!).
"We all like our in-person retail fix — and you can't get that online," says McFee. "Customers love coming here, and I love making it special for them."
400 E. Main St., Mount Horeb. mcfeeonmain.com
SHOP THE LOOK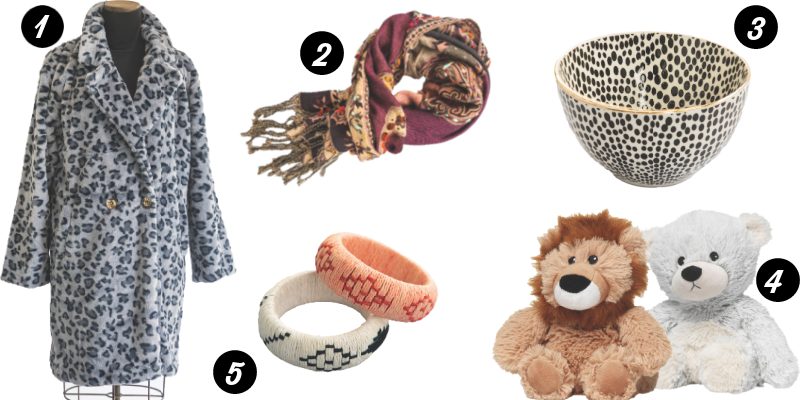 COCO + CARMEN leopard faux fur coat is a head- turner for fall. $89
Make this patterned, boho scarf the centerpiece of your look, or, marry it with another patterned piece for a bolder ensemble. $45
K&K Interiors bowls and plates are perfect for snacks and hors d'oeuvres or used for holding trinkets and jewelry. $9
Warmies stuffed animals hide a sweet surprise: The microwavable plush provides hours of warm relief and is gently scented with lavender. $25 each
It'll look like you picked up one of these Pan straw bangles in an exotic locale. We won't tell. $15 each