By Shayna Mace | Photography by Shanna Wolf
As the new year rolls around, it feels good to organize, purge and possibly replace items that need it. And, swapping out an old item with something special, one that's also beautifully designed, is even better. Since 2013, Madison Modern Market has inspired shoppers to introduce stylish, useful home and gift items into their lives.
"In our buying, we look for how an item is made, the material, its function and if it's aesthetically pleasing. It could be something [you use all of the time], like a dish. If it's colorful and cheerful, that's important to us as well," explains manager Emma Stepien.
Rows of candy-colored Pantone mugs, rainbow swaths of reusable water bottles and eye-pleasing handbags in earthy and pastel shades tempt shop visitors with their technicolor attractiveness. Also find housewares, kid's gifts, creative pursuits ( journals and puzzles) and jewelry.
"You don't have to be a design lover to appreciate the products we sell," says Stepien, whose own design background informs her buying decisions. "We just like to find the joy in the little things — and we strive to bring joy to your day."
310 State St., shopmadmod.square.site
SHOP THE LOOK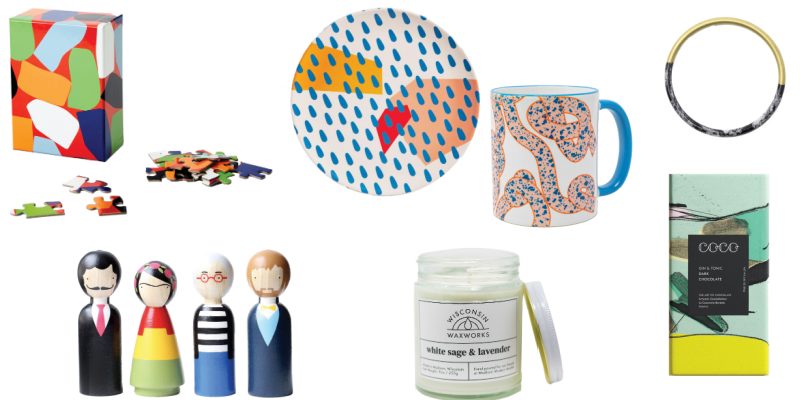 Clockwise, starting in top left:
Store manager Emma Stepien says puzzles have been a hot seller during the pandemic, like this one by Dusen Dusen. $25
This Poketo bamboo plate is eco-friendly (bamboo is a fast-growing, renewable resource); dishwasher- safe; and, oh yeah — pretty cute. $12
Enjoy your morning coffee a little more with this design forward The Completist mug. $16
This Baleen bangle, like all of their jewelry, is made out of recycled materials. $28
We've never heard of gin and tonic flavored chocolate, but we're sold with this COCO bar. $7
Wisconsin Waxworks is based right here in the capital city, and their candle scents are heavenly. $20
These hand-painted wooden dolls by Goose Grease are technically a kid's toy — but we don't blame you if you want to buy the set for yourself. This collection features artists Salvador Dalí, Frida Kahlo, Andy Warhol and Vincent Van Gogh. $38