By Shayna Mace | Photography by Shanna Wolf
If there's a woman that gets retail, it's Jen Wuebben. After working the last several years for companies like Burberry, Lands' End and Kmart doing everything from fashion illustration to store management to clothing design to buying, it was only natural that eventually, she'd open her own shop. "It was a lifelong dream of mine," says Wuebben.
First came Tradition Children's Market in 2016, followed by Tradition Women's Market in 2019. The side-by-side shops in downtown Middleton are the manifestations of Wuebben's impeccable style. On the children's side, find squee-worthy clothes for kids — from newborn to size 14, shoes and a small selection of toys. Step over to the cozy, moody women's side and ogle over sweaters, cool loungewear, printed blouses, denim and timeless, chic accessories.
Wuebben's buying philosophy is simple: offer a tightly curated assortment of brands — and only carry the best of each brand. She loves Skylar Luna's kids' pajamas, Jellycat's stuffed animals and Sweet Wink's tulle skirts. She only carries one women's denim line, Principle Denim, for now. "I'm really picky about fabrication because of my design background," Wuebben explains. "I look for classics with a twist — and things we can wear in different ways, since we're all juggling so much right now."
1821 & 1823 Parmenter St., Middleton, tradition.market
SHOP THE LOOK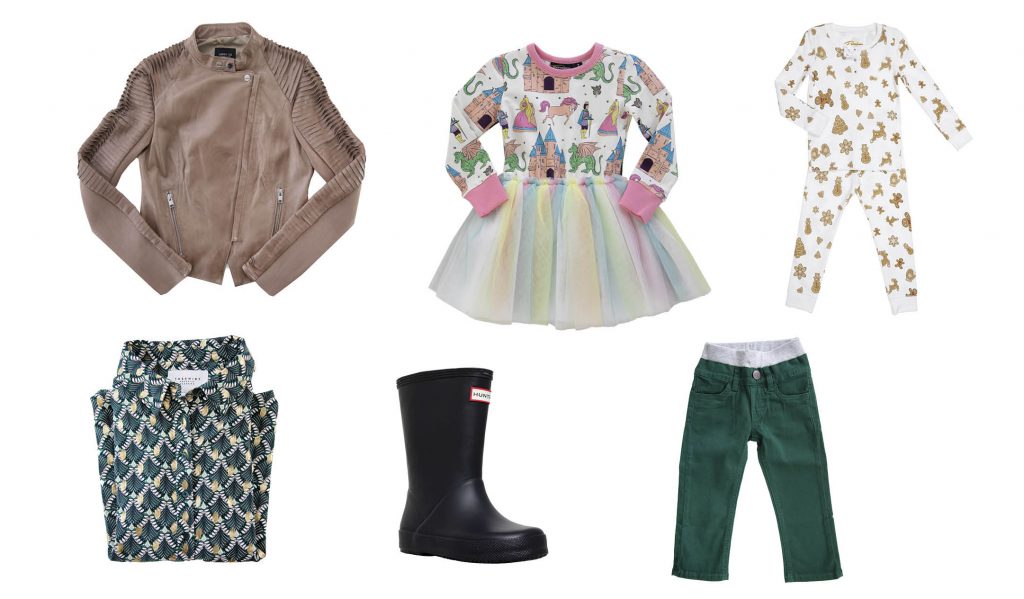 Clockwise, starting at top left:
Looking to #treatyourself? Pick up this gorgeous Lamarque Azra Signature leather jacket that's a wardrobe staple. $575
Make her fairytale dreams come true in this Rockyourkid dress. $68
Petitdoux's fair trade pima cotton jammies will outfit your cutie for the holidays. $48
Hoonana's pants pull on easily, and are perfect (and durable) for active kids. $48
You can never go wrong with a classic pair of Hunter boots for a kiddo — and Tradition has them in several colors. $55
This luxe women's button-up by The Shirt has a no-gape front — and a fabulous print. $98