Past Comes Alive in River Town
By Kaitlyn Novotony | Photos Courtesy Dubuque Area Convention & Visitors Bureau
DUBUQUE MAY BE THE OLDEST TOWN in Iowa, but thanks to a massive city effort to liven up its once sleepy waterfront, this small burg of about 60,000 people has become a vibrant Midwest destination offering great reasons to pay a visit.
The National Mississippi River Museum and Aquarium is the go-to place to learn about the mighty river's history and wildlife through hands-on exhibits and a 4D theater. This summer, dinosaurs—life-size animatronic versions—are stars of the show in the museum's Dinosaurs Unearthed exhibit.
The Mines of Spain State Recreation Area offers self-guided tours through awe-inspiring ecosystems, and the chance to meditate on the exquisiteness of the natural world. So does the Dubuque Arboretum and Botanical Gardens, whose themed gardens make for an interesting mix of greenery.
The Fenelon Place Elevator in Cable Car Square is billed as the world's shortest, steepest scenic railway. Get a top-notch view of the city's historic business district, the Mississippi River and beyond.
On the National Register of Historic Places, the Mathias Ham House museum focuses on the Antebellum Era. A one-room school house sits aside a replica mineshaft, displaying Dubuque's lead mining history. They used to make bullets and cannonballs here, cooling the lead by dropping it from on high into the Mississippi. For more information visit traveldubuque.com.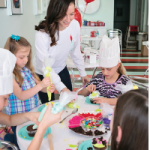 EAT: The L. May Eatery, an upscale, casual joint on historic Main Street, serves rustic and wood-fired entr.es. Get dessert at Candle Ready Cakes, which has both a Main Street shop and a food truck, including summer-themed cobblers, key lime pie and orange creamsicle.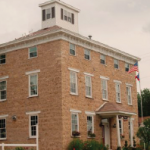 SLEEP: Bunk at The Black Horse Inn at the Sherrill Mount House, one of the last standing pre-Civil War era buildings of its kind. Modern comforts accent the old-timey feel of the four exclusive suites.