Leah Kolb
Bringing contemporary art to Madison
By Melissa Falcon Field | Photographed by Hillary Schave
What does it take to create a world-class contemporary art museum? Amazing art. Madison Museum of Contemporary Art's Associate Curator, Leah Kolb, is the one who brings it home. Warm, inspired and hard-working, the University of Wisconsin graduate is passionate about her role.
Kolb, who works with MMoCA Senior Curator Rick Axsom and Director Stephen Fleischman, says hers is an independent and collaborative job, to "figure out how to frame exhibitions specifically for a Madison audience."
Her work is among the most glamorous—yet behind-the-scenes—careers in town, and Kolb dresses the part. She runs up the gallery's glass staircase, clipboard in hand, in modish geometric jewelry, an angular black tunic and a pair of funky patent leather platforms. In a single morning's work Kolb picks out paint colors for the gallery walls, has booked a trip to New York City to meet with a millionaire art collector, started an article about an upcoming show, determined the technological specs for a new media installation and has worked her way through legal copyright minutiae. It sounds overwhelming, but the 32-year-old Madison native takes her responsibilities in stride.
Kolb began working in the curatorial department at MMoCA while finishing her archival studies graduate degree at the UW, and in the last two years her role has expanded to include reviving the museum's technologically outdated and underused multimedia gallery. Now called the Imprint Gallery, it offers an intimate and experiential environment where museumgoers can absorb multisensory works by contemporary artists who use less traditional artistic mediums, including moving images, experimental sound and light and digital technologies.
"Building MMOCA's vision and bringing new digital contemporary works to Madison is a huge job," says Erika Monroe-Kane, MMOCA's director of communications. "And for Leah that work is an exhilarating and satisfying labor of love."
Kolb channels that passion into seeking multimedia and multisensory artworks that are approachable from many angles. "Art should create a conversation among viewers," Kolb says, "so the exhibitions we present are meant to direct a meaningful dialogue among the museum's visitors, without being overly didactic."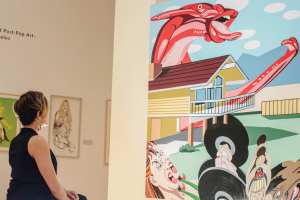 That means traveling to New York City and Los Angeles, helping MMoCA donors select new acquisitions and composing text that helps viewers interpret a piece or installation by incorporating facts and historical context. "It's my hope that by deciphering how each piece of art fits into the museum's larger narrative, viewers will have something to grasp onto as they digest the exhibition," she says. Kolb finds writing narratives for contemporary art—which at some museums can be a piece of hard-to-access art in itself—easier, in some ways, than writing about, say more classical art. "Contemporary artwork often addresses some aspect of contemporary life, which is something most people can identify with, or at least understand."
For example, in September Kolb helped bring to MMoCA a digital installation by Jennifer Steinkamp, "Rapunzel 9, 1995," a computer-generated, moving-image projection. It's a show she's been eager to share with the community because it embodies current developments in contemporary artistic practice. "The prominence of moving images and technology within contemporary life has opened up new opportunities for artists to create critically engaged work that challenges the form and content of media and technology production," Kolb explains.
Selecting such pieces is a two-part process. "First, we recognize what new forms of art are emerging from a contemporary context, and next, we think about the museum's commitment to contemporary art and the ways artists use moving images, data and sound as a means of expression to explore our contemporary age."
Steinkamp's "Rapunzel" comes to Wisconsin via New York, and Kolb enthusiastically describes attaining the piece. "MMoCA's director, the donor, and I visited several galleries in Chelsea, looking at digital media pieces by over half-a-dozen different artists, and, after much discussion among us, we decided on the Steinkamp piece for the museum because of its immersive nature, which fuses beauty and rhythmic movement into a hypnotic work of art. It's that aspect of the work that makes the installation a perfect fit for our Madison community," says Kolb.
Other innovative exhibitions she's helped attain include the recent solo installations by Eric and Heather ChanSchatz and Milwaukee-based artist Jason Yi. Working closely with Kolb, Yi created a site-specific work that consumed MMOCA's State Street Gallery and resulted in what she describes as "a moment that translated personally for each individual."
And helping to translate that work for viewers, while allowing them to be absorbed inside a piece and its artistic expression, is Kolb's aspiration. "Different people approach art in different ways. Some are interested in the larger historical or art historical context, while others are more concerned with what that art says about contemporary life. I try to show how the work as a whole can reflect aspects of our lives—culturally, socially and in terms of the artist's interpretation of a particular theme. But the balance is, of course, to give as much information as possible without telling the audience how to feel."
Beyond acquiring and staging new contemporary and digital works, Kolb's leadership role includes preparing 2016 installations that include a plant-based interactive project, which will premier in MMoCA's rooftop sculpture garden.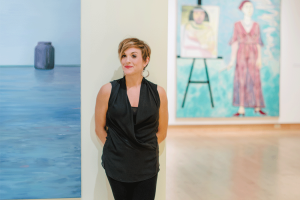 Kolb grins when talking about this additional spring project. "It's another installation I'm really excited for—this one exploring the connection between contemporary art and nature. And yes, sure, it's something as wild as engineering trellises and figuring out how to grow hops on the roof, but, you know I just love it, the same way I love bringing emerging artists to Madison, or helping Rick Axsom with his catalogue raisonné documenting all of Frank Stella's prints. Every part of MMoCA, every show, every artist in residence, every trip to New York or L.A. pushes me to think about what will work in Madison, which means understanding the storytelling around each piece of art, and to think about where it is our community of viewers are willing to go."