By Shayna Mace | Photos courtesy Larissa Anderson (top) & Ameridown
If there's anything the pandemic has taught us, it's that spending more time in our homes made us quickly realize the things we want to update — but may not have thought about before.
Your bedroom is arguably an important spot to relax and feel refreshed in. After all, we spend one-third of our lives sleeping — so it's critically important that this space serves us well.
"When the world is crazy, it's a huge deal if you can leave those stressors behind and feel safe, welcoming, calm and relaxed in your bedroom," explains Larissa Anderson, owner and principal of Haven Design Studio in Madison. "That's one of the biggest requests I get [from clients] over and over, is to make [their bedroom] feel like a retreat."
Read on for tips to make your bedroom a calming, stylish oasis.
CARVE OUT A SEATING AREA
Anderson says if you have the room, adding in a chair with an ottoman is a great way to up the restfulness vibe in your bedroom.
"Making the bedroom more than somewhere to sleep is something I'm consistently doing now. You can prop your feet up and have your coffee [in your chair] in the morning."
LOVELY LIGHTING
Lighting shouldn't be an afterthought, and there are easy ways to make your space look more luxe.
"[Something] that's trendy right now … is adding sconces next to your bed instead of table lamps. Visually, it gives you that hotel vibe. Functionally, it clears off space on your nightstand," says Anderson.
If you don't want to hire an electrician to install sconces, you can buy battery- operated or plug-in versions for less hassle.
ADD TEXTURE
Curating a space to pepper in a variety of textures, while still having a cohesive, coordinating look, is the best way to achieve decorating nirvana. Anderson suggests adding a throw rug in your bedroom (whether you have carpet or not) to give a "tactile cue that as soon as you walk in, it's cozy and you can relax."
Anderson also loves popping a soft, chunky knit throw blanket on the bed and installing draperies to soften the room. (She also suggests blackout blinds so the space is truly dark.)
PICK THE RIGHT BEDDING
Your bedding is also important since you touch it every night, says Jackie Marx, product development and purchasing manager at AmeriDown. The bedding store offers count- less options for "warm" and "cool" sleepers, as well as a variety of sheet types, from cotton to linen.
"… To have an ideal sleep environment, it's really about personal preferences, so it's quite unique for everyone," says Marx. For example, percale sheets are "cool and crisp to the touch" whereas sateen has a soft and silky weave. Linen is considered a "luxury fabric, and some say it can last for decades," says Marx.
COLOR CUES
Larissa Anderson of Haven Studio consistently recommends these bedroom colors to her clients.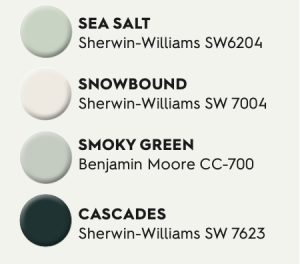 SWEET SLEEP
These AmeriDown bedding picks will make your bed a welcome spot to wind down in every night.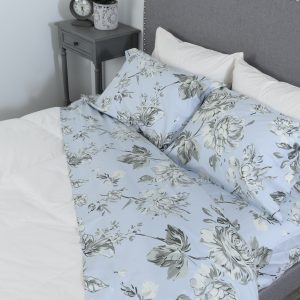 These 400-count sateen sheets are perfect for colder temperatures and cold sleepers. $109-$199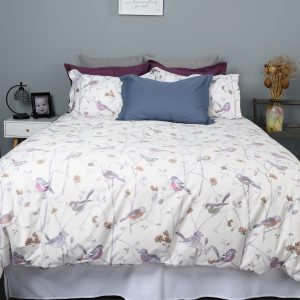 This songbird 300-count duvet cover and sham set is easy to wash and is silky-soft to the touch. $139-$199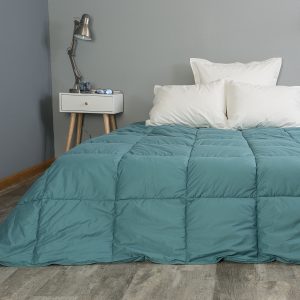 AmeriDown's signature product is their down and down alternative comforters. The medium- weight comforter is the perfect, year-round pick, says Marx. $139-$209