By Hannah Wente | Photography by Shanna Wolf
Located on Fox Avenue in Madison is a green paradise, filled with lush plants and flowers, transformed by a garden enthusiast. Not surprisingly, homeowner Melissa Tracy runs a local gardening business, owns the blog Mel's Green Garden and is the author of two gardening books.
Her first book, "Mel's Green Garden: Tips and Stories from a Happy Gardener," was published in March 2014. Her second gardening book, "Mel's Monthly Garden Guide," will be available on Amazon later this year.
"Gardening has brought me so much joy and happiness," Melissa says. "I want to share it with other people."
Her grandmother, Betty, and father, John, were strong influences on her becoming the passionate horticultural- ist she is today. She grew up working alongside her grandmother picking raspberries, planting flowers and weeding around perennials. Her dad planted a large garden in each place the family lived. (Currently, his garden is home to healthy eats, including asparagus, lettuce and blueberries). Melissa's mom, Patty, edits her blog and books. In other words, the whole family loves exchanging secrets of the trade.
"It's fun on family trips — we pore over the latest [seed] catalog," Melissa says. "We talk about what works, what doesn't work and what our plans are for the next season's [garden]."
But caring for plants didn't always come easy for Melissa. She once bought about 30 houseplants for her Boston apartment — and they all died. When she and her husband, Greg Tracy, moved from Naperville, Ill., to Madison in 1999, their first home in the Dudgeon-Monroe neighborhood came complete with a well-cared-for garden. Neighbors and family members helped teach her how to manage the garden.
"I inherited the most beautiful garden," she says. "It had a bleeding heart [plant], and I divided it and gave it to people. The more you divide a plant, or share the love, the better it grows."
When the couple's oldest daughter, Emma, was born, she wanted to be outside all of the time — resulting in Melissa spending even more time in her garden. After gardening for a decade, Greg suggested she start a blog. That evolved into a weekly flower share and full-service gardening business, where she mulched, weeded, planned and planted for clients. But, a severe bee allergy triggered by a run-in with a wasps' nest in a client's yard led her to discontinue working with other homeowners' gardens.
Today, she creates portable window boxes and planters. She sells the planters year-round and they change with the seasons. Winter planters feature white birch branches and holly sprigs. Spring bursts with pansies, sweet alyssums, snapdragons and ranunculus. Summer brings palm trees, hot pink geraniums, elephant ears, petunias and grasses. Fall planters have mums, ornamental cabbages and pansies.
In addition to her planters, Melissa still offers weekly organic flower shares, cut from her garden. Peonies, tulips and hyacinths bloom in the spring; followed by lilies, hydrangeas, dinner plate dahlias, sunflowers and snapdragons in the summer. Shares last 13 weeks, and pickup or delivery in the Madison area is available. She also creates custom-cut floral arrangements for any occasion.
Beyond her own business and managing her garden, Melissa beautifies other spots throughout the city. She pinpoints an influential 2010 trip she took to Alice Waters' Edible Schoolyard, a one-acre organic garden at a Berkeley, Calif. middle school as "unbelievable." The garden provides organic produce and educational opportunities for kids, adults and educators.
That trip, along with her middle child, Anna, spurred her to work with the city of Madison in 2011 to get approval to create a school garden at Blessed Sacrament school, where all three of her children attended. The school's 3K through eighth grade students continue to enjoy an array of Sungold tomatoes, scarlet runner beans, kale, lettuces, herbs, parsley, beets, carrots and mint. The garden is also home to perennials like asparagus, strawberries and flowers. Although her youngest, Charlie, is now an eighth grader, Melissa says she'll continue to help with the garden forever.
"I became a master gardener to see how to grow fruits and vegetables in a colder climate," she says. "The kids say they don't like tomatoes — but then they eat the ones they helped grow in the garden, and say, 'I really like tomatoes, what can we grow next?' It's so fun."
---
Solid Starter Plants
Flowering shrubs are the easiest to maintain for gardening newbies. Try these recommendations from Melissa.
Limelight Hydrangea
"They get big fast, and they grow well in full sun or shade. It's been the decade of hydrangeas."
Snowball Viburnum
"It blooms several weeks ahead of the hydrangeas, and has a round white flower that goes from lime green to white. You can have constant blooms in your yard that are pretty low maintenance."
Annabelle Hydrangea
"Plant 10 — they look beautiful altogether."
---
Essentials Tools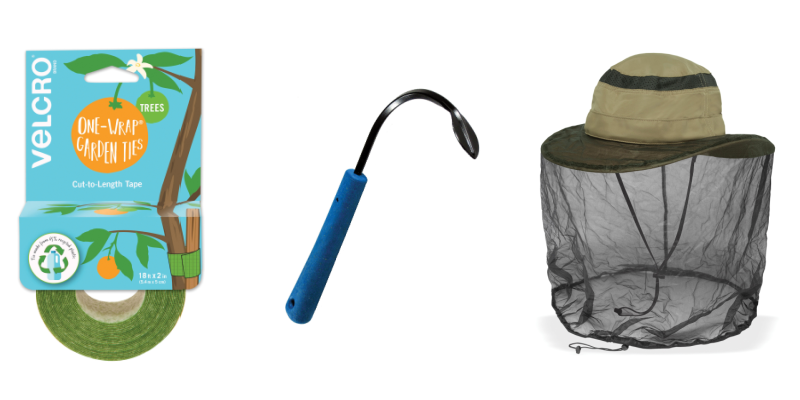 e-Wrap Garden Ties
"I use this when I'm planting my garden in the fall to stake dinner plate dahlias. In the summer, it can help your Sungold tomatoes stay upright. Wrap Velcro around the stem and support." $3.54, Menards
CobraHead Weeder & Cultivator
"[This is] really great for weeding because it gets to the root for more stubborn weeds or weeds that shoot sideways. It helps when planting to loosen soil in a pot … it goes deep fast, and you can dig a hole." $27.95, cobrahead.com
Bug-Free Cruiser Net Hat
"Once June hits, it's hard to garden without getting eaten alive. I wear [this] to mow my lawn and for sun protection." Hat, $58, sundayafternoons.com; bug net, $13.95, rei.com