Girl Power
Anything Is Possible
By Jennifer Rosen-Heinz, Mom To Lilly, and who works in business development for BRAVA Magazine
A month ago my 7-year-old-daughter Lilly said to me: "I want to change my name to Lillary."
Me: "Why, hon?"
Lilly: "So I can be president when I grow up."
Representation matters.
When a local TV reporter asked Lilly how much it meant to her that Hillary could become president, she said, "It matters 1,000 percent. To infinity."
So I shared Lilly's comments with Hillary Clinton's campaign office. And just last week, Lilly received this response: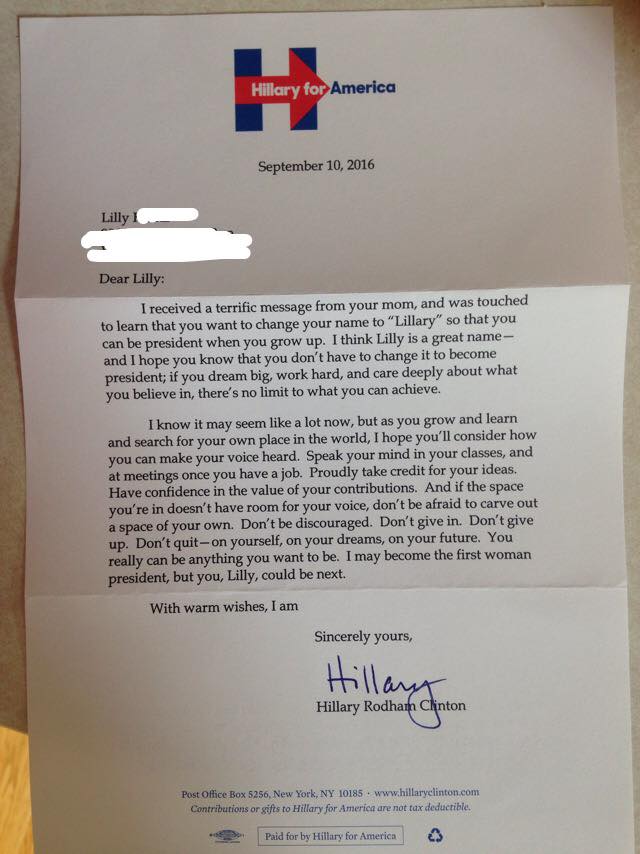 "Dear Lilly:
I received a terrific message from your mom, and was touched to learn that you want to change  your name to "Lillary" so that you can be president when you grow up.  I think Lilly is a great name – and I hope you  know that you don't have to change it to become president; if you dream big, work hard, and care deeply about what you believe in,  there's no limit to what you can achieve.
I know it may seem like a lot now, but as you grow and learn and search for your own place in the world, I hope you'll consider how you can make your voice heard.  Speak your mind in your classes, and at meetings once you have a job.  Proudly take credit for your ideas.  Have confidence in the value of your contributions.  And if the space you're in doesn't have room for your voice, don't be afraid to carve out a space of your own.  Don't be discouraged.  Don't give in.  Don't give up.  Don't quit – on yourself, on your dreams, on your future.  You really can be anything you want to be.  I may become the first woman president , but you, Lilly, could be next."
Thank you, Hillary…for shattering that glass ceiling for all girls and women in this country. Lilly dreams of making real change not despite being a girl, but because she's a girl, and she knows her possibilities are infinite.
---
Madison-area women in office share more insights and comments about the importance of engaging more women to run for political and policymaking office—from all sides of the aisle—in "Run, Women, Run," featured in the October 2016 print issue and digital edition of BRAVA Magazine.