By Shayna Mace | Photography by Shanna Wolf
When Leah Robertson and Rebecca Aide teamed up to open Booth 121 in 2015, Robertson's upcycled furnishings business was already a hit. Like any successful enterprise, the sisters-in-law decided to level up to open a retail shop that offered Robertson's pieces — plus home décor, gifts, jewelry and clothing.
The quirky and colorful shop is known for its snark, and shoppers will find funny "The Golden Girls" memorabilia, sassy magnets, candles with witty sayings and even cross-stitch wall hangings with a naughty (and nice) streak. The majority of pieces in the shop are handmade, and Robertson says they carry over 100 makers — 90% of which are from Wisconsin.
"Our customers come in here because they appreciate what our makers do, and the value of their talent," says Robertson.
Aide loves coming into work every day. "No one comes in here because they have to, they come in here because they want to!"
6203 Monona Dr., booth121.com
SHOP THE LOOK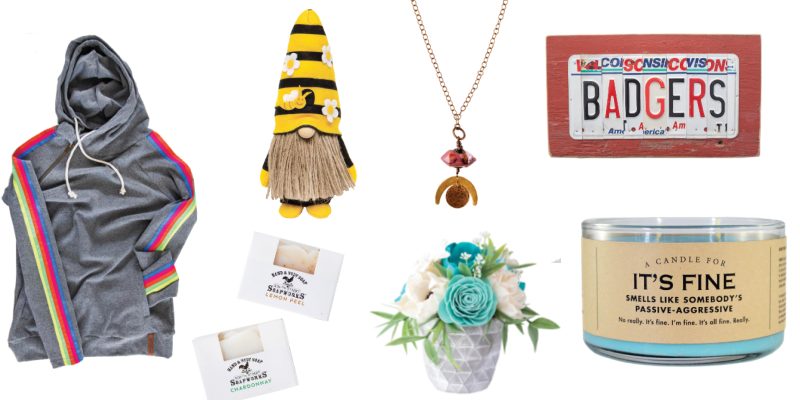 The shop's impressive array of MeraVic gnomes will brighten your day. $25
South Street Soapworks' handmade body products are crafted in Lake Mills, and the scents are heavenly. $6 each
This Ampersand Avenue sweatshirt is a cozy top with retro panache. $62
Madison-based Bohemian Bauble crafts unique jewelry out of reclaimed beads. $30
This flower arrangement by Nicole From Scratch never fades — these stems are made of wood! $40
Booth 121 carries a lot of upcycled items, like this license plate sign by Valley View Rustic Creations. $50
For some comic relief, Whiskey River's candles will spark a smile. $24