Product curated by Silver Leaf Interiors | Photography by Shanna Wolf
Kelly Blanchar, lead designer at Silver Leaf Interiors, is ready for the next home décor wave: maximalism. The pandemic prompted this push, with many of us decluttering and saving only cherished items. "We are sharing our culture, our stories — and we long for travel and adventure," says Blanchar. "An easy way to introduce maximalism into your home is to add wallpaper that speaks to you from a past travel experience, reminds us of a moment in time that is treasured or a special person in our lives; choosing an unexpected color and texture for an accent chair; or peppering in a mix of pillows and rugs with bold patterns.
Pictured above, clockwise from top right:
Schumacher Timothy Corrigan Corail Velvet Emerald fabric
York Conservatory Vincent Poppies wallcovering
Schumacher Gaspard Velvet Tape trim
The MT Company Pagoda Garden Indigo fabric
Top Knobs brushed brass pulls and knob
CR Laine Cappy Raspberry fabric
CR Laine Labyrinth Blue fabric
Lee Industries Everest Crimson fabric
MORE IS MORE
It's the maximalism motto.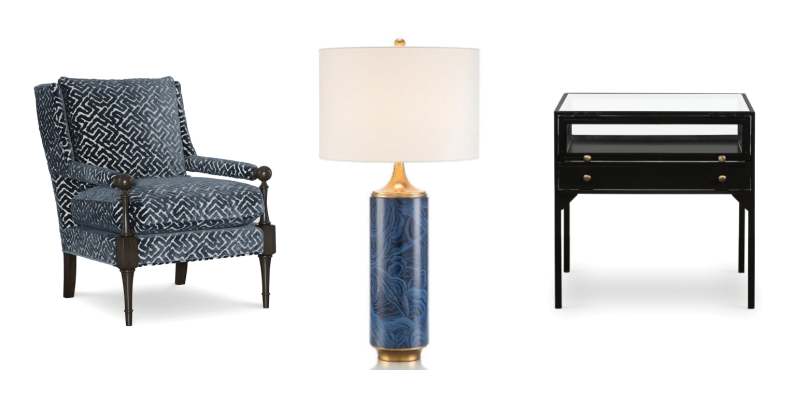 CR Laine Brinkley chair in Sable finish and Labyrinth fabric, crlaine.com.
John-Richard Asymmetrical Azure bowls and John-Richard Faux Azurite table lamp, johnrichard.com.
Four Hands Shadow Box end table, fourhands.com.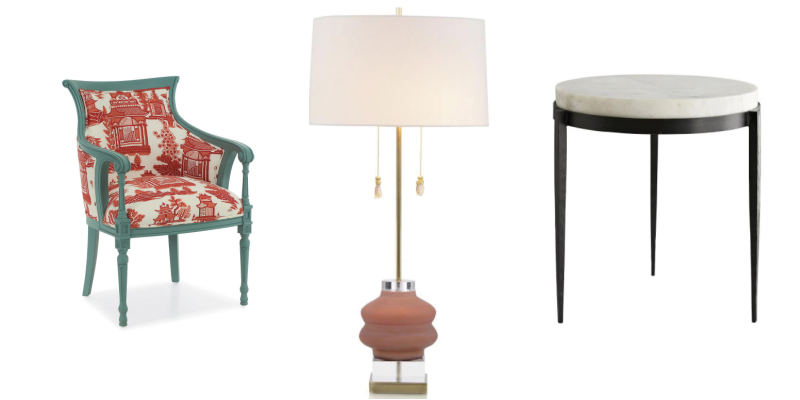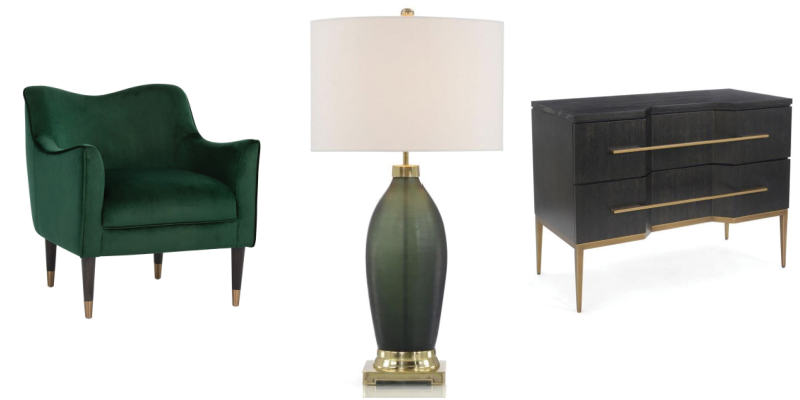 All prices upon request.
TREND SPOTTING
Kelly Blanchar, lead designer with Silver Leaf Interiors, shares what's hot in interiors.
Maximalism is on the cusp. This concept is the use of bold color, patterns and curated collections in the same space (see left and previous page). "We are seeing this design trend in wallpapers and fabrics and are starting to layer this into our designs. Many in the Midwest will embrace this more cautiously as they become comfortable with using color again, while others are so ready for this change."
Color is trending. "The idea that color is back is exciting! Deep color saturation in blues, fuchsias and greens is fresh, and a look that can easily be layered into our homes with the right balance."
Farmhouse is fading. "Don't get us wrong — we love the modern farmhouse look. However, a design trend tends to last 7-10 years, and we are there with modern farmhouse."
The pandemic influenced interiors. "The one word I keep hearing is cozy. How we use our homes has changed so drastically with the pandemic. Time spent at home is now more than just eating and sleeping — it's become a place to work, attend school and exercise. During all of this, it's also been about clearing out, removing clutter, tossing and donating, while maintaining a neutral and calm color palette. Now clients are looking to make their home feel lived-in again."
Color is personal. "Color is never 'out' — it just reinvents itself! Design is constantly evolving, and getting to know our clients, their home and comfort level with color is how we shape the designs we present. Color is a very personal choice, and while you can love the color in a print or at a friend's house, it doesn't mean the same look will be comfortable for you to live in."
However, if you're ready to move past the "calm" and enliven your spaces with energy, maximalism is a great way to do so, she says.