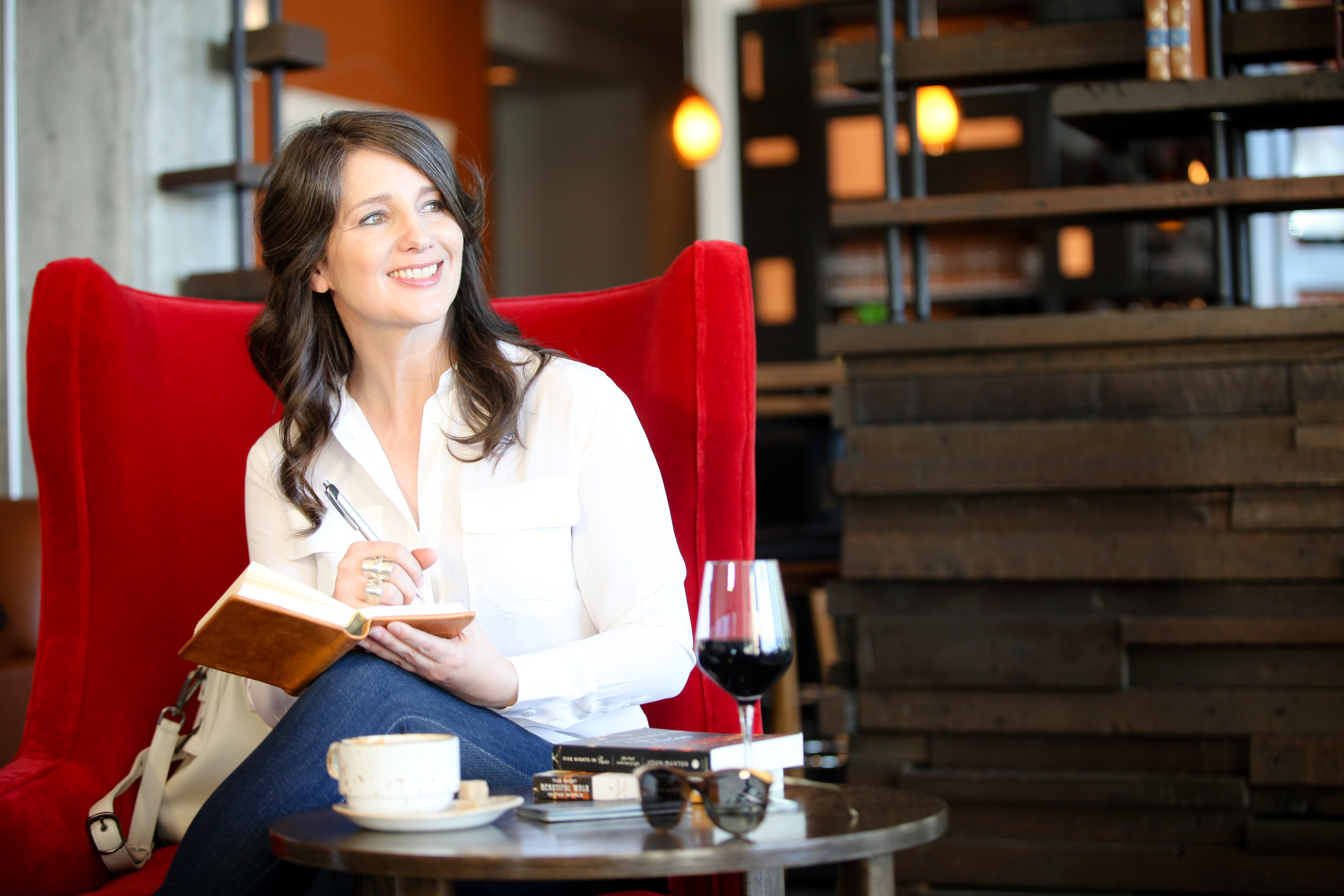 Interviewed by Kaitlyn Novotny
Photographed by Shanna Wolf

Shot on location at Morey Field, Middleton, and Hotel Red, Madison

Hair and makeup styling by Jemree, Aniu Salon and Spa, Middleton
Name: Becky Behling
Age: 45
Occupation: Owner and creative director of Beauty Tramp, a globally inspired interior design and decor service
Family: Fiance, Chris, co-owner of Beauty Tramp, and five kids between the ages of 11 and 16
Hobbies: Traveling across the globe, street photography, reading
Your fave part of the BRAVA photoshoot?
Having someone else do hair and makeup—I can make a house look nice, but not myself!
The hardest part was having a glass of wine next to me that I couldn't drink. I'm old friends with Shanna [Wolf, the fashion photographer] so being around her is always a blast, and having the shoot at the airport gets the travel bug biting.
Where in the world have you been since launching Beauty Tramp last year?
We visited Dutch Design Week last October in Amsterdam. Morocco and Istanbul are coming up!
How did you come up with the name Beauty Tramp?
It's really hard to name a company nowadays because everything's taken! Tramp, meaning traveler, really stuck with us, and it has an edge to it. Beauty Tramp is essentially about traveling around the world in search of art and beauty.
What best describes your design style?
Mid-century glam, Hollywood regency and mid-century modern. I'm certainly not the person to hire if you want your pillow patterns to match your curtain patterns! High-end, low-end, vintage, modern—all of it tells a story of the people who live there.
Walk into any room and give the owners a quick, fresh design tip:
Edit. People love so many things, they want everything out at once. But things lose their shine when they're out all the time. Rotate throughout the year. Find one statement piece that you really love and try to work everything around that.
What gets you up in the morning?
Gratitude and expectation; you never know what each day is going to bring but it's exciting to wake up and find out what it's going to be.
What's the best way for women to find their passion in life?
Stop listening to everybody else. Deep down we all know what we're good at, what makes us shine. Find your inner genius, don't listen to naysayers and take the risk. Be still and listen to yourself.
Do you have a role model?
I have a few! I look up to Eleanor Roosevelt because she was extremely principled. She lived life on her own terms. As for an energetic, personal hero, I admire Maria Popova, curator of brainpickings.com. She's so damn smart and sees the connections between art and life in such an intellectually inspiring manner.