By Shelby Deering
Oftentimes, styles come and go, but there's one design approach that hasn't budged since it first emerged in the 1940s. Midcentury modern style continues to permeate current homes, with roots that lie in the culmination of World War II. And, it's particularly popular right now.
"Just as the name suggests, midcentury modern is a design genre that emerged in the middle of the 20th century," says Tobin Morrison, an interior designer at The Century House in Madison. He says that this style was "very much a product of its time," since the war forced the U.S. to be extremely thoughtful and intentional about how it made things, "being careful not to gobble up precious materials that might be needed for the war effort."
"We saw different materials and technologies emerge, like molded plywood and fiberglass," he says. Additionally, European designers came to the United States, bringing their midcentury design ideas with them, as Deb Corning, owner, designer and general contractor of Madison's DC Interiors & Renovations, points out. Midcentury modern design exploded in popularity in the 1950s and 60s, drawing upon this new age of modernism. With its clean lines, head-turning hues, wood touches and trademark lighting (such as the eye-catching Sputnik chandelier with a look inspired by the 1957 Russian satellite), midcentury modern continues to stick around today, and you can find out how to bring it into your home.
STAYING POWER
While it certainly looks modern by today's standards, midcentury modern is an enduring style that continues to be timeless and classic.
"Midcentury modern is a classic style because it's such an understated and easy to pair look," says Noel Fahden, vice president of merchandising at Chairish, an online vintage marketplace. "The clean lines and minimal details make it easy to incorporate in a variety of styles and spaces."
As Carly Moeller, registered interior designer and owner of the Chicago-based firm Unpatterned, says, "Function never goes out of style. Whether it's a sleek, easy-to-clean countertop or a wood furniture piece that doubles as a record cabinet, mid-mod style resonates with today's appreciation for function and efficiency."
With more and more people looking for ease in their interiors, especially since the start of the pandemic, it makes sense that midcentury modern just might be more popular than ever. And it doesn't have to be done in a literal way.
"Though we can't discount the lasting power of 'Mad Men,' I also think there are updated ways to incorporate midcentury features that don't look like a page from a 50's magazine, but still nod to the style," Moeller says.
HALLMARKS OF THE STYLE
We asked these midcentury experts to share the top hallmarks of this style that you can bring into your home.
NOEL FAHDEN, CHAIRISH
Futuristic shapes, like Arne Jacobsen's iconic Egg Chair
Aerodynamic details, like chiseled pencil legs and sculpted brass pulls
Brightly-colored upholstery in durable wovens and wools to balance wood furniture pieces
Anything in plywood, glass, metal, plastic or vinyl, carrying a minimalistic look and a clean silhouette
CARLY MOELLER, UNPATTERNED
Functional pieces
An efficient layout or floor plan (think: a kitchen with workstations and practical, yet modern, lighting)
Natural materials in medium-tone wood finishes
TOBIN MORRISON, THE CENTURY HOUSE
Simplicity
Large patterns and shapes
Bold textures
DEB CORNING, DC INTERIORS
Soft, organic curves
Geometric shapes
Wood beams
Large windows
Stone fireplaces
WHERE TO SHOP
These area shops offer midcentury modern décor:
The Century House
Retro-Revolution
Iconi Interiors
Rewind Decor
Rubin's Furniture
Retro Hues
"Color is a major component of midcentury modern style," says Tobin Morrison. "Designs in the 1940s and 50s incorporated colors in ways that weren't seen before, either as a splashy accent or as a way to make a piece of furniture more distinctive."
While you can certainly incorporate midcentury modern's mainstay hues through furniture and decor, like cobalt, tangerine, olive green and goldenrod, as Fahden shares, to go really all-out, opt for a midcentury-inspired paint color. While these colors may sound brazen, Deb Corning says that they tend to generally be muted. And don't worry about copying authentic midcentury interiors exactly.
"When it comes to current design, I think there's a fine line between drawing on the past and emulating a rigid style," Moeller says.
The experts particularly love these colors for midcentury interiors.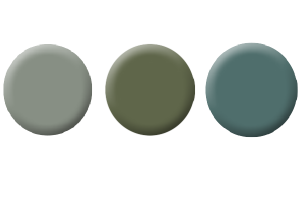 Benjamin Moore, Carolina Gull: A green that nods to the past yet looks decidedly current; this hue looks pleasing when paired with walnut furniture.
Farrow & Ball, Bancha: A stunning olive green, this color is bold, yet versatile, when used in a midcentury space with neutrals.
Benjamin Moore, Polished Slate: While turquoise is often used in mid-mod designs, this teal takes it down a notch while still having a throwback feel. Pair it with leather furnishings.