By Annie Rosemurgy | Photographed by Hillary Schave
Our fabulous February 2019 models dish on all things wedding and fashion (and their sweet tooths)!
Kayleigh Cleary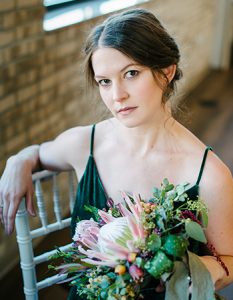 As a busy mom of a preschooler and a newborn free time is in short supply for Kayleigh. When she does manage to carve out a spare moment, Kayleigh loves board games—the nerdier the better—and flexing her creative muscles with craft projects like crocheting and cross-stitch.
What was the most fun you've ever had at a wedding?
My best friend's wedding this past fall was one of the best. It was laid back and uniquely "them." I think the more easy-going the couple is the more that tends to carry through in all the details of the wedding.
What pieces are in heavy rotation from your closet these days?
I do think a good pair of well-fitting jeans is essential. I also have a pair of black boots that I've had for a good ten years that go with everything. My go-to accessory would be some casual dangly earrings. 
What's your style philosophy for attending a wedding? 
I think of it like an interview and dress one level up from what I think the dress code is (unless a dress code is specified by the bride and groom).
Ultimate wedding food/dessert? 
I'm an equal opportunity dessert eater, but I will be extra excited for a dessert bar or doughnuts!
Felina Cleary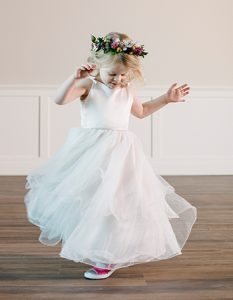 Our outrageously adorable girl model is Kayleigh's daughter Felina, 3, who loves to play restaurant and is enjoying getting to know her new sister, Waylon. "She'll take your order all day long," laughs mom Kayleigh. Felina was thrilled to be the flower girl for a family friend's wedding in September. She had some last-minute jitters and broke into a run down the aisle but burned off the rest of her nervous energy dancing her little heart out at the reception.
Carey Spink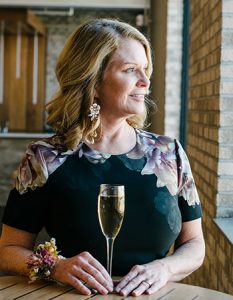 When she's not modeling for BRAVA, Carey's favorite pastime is spending time with 3-year-old grandson Bo. She is anxiously awaiting the arrival of grandchild number two this summer!
What was your favorite part of being part of the BRAVA shoot?
It was such a fun relaxed atmosphere. The photographer was really great at keeping us relaxed. And also, I was very, very tired after the day.
What was your favorite outfit from the shoot?
I loved them all. Overall, I would pick the pink mother of the bride gown, it was in a color that I loved and it made me feel wonderful, the fabric was so soft and the draping felt perfect.
Your personal style in three words?
Clean, classic and relevant.
Silver or gold?
Silver.
Do you have a favorite wedding memory?
My daughter Emily was married last September at the Memorial Union. The ceremony included a Spanish wedding tradition known as the Sharing of Coins (Arras). The madrina de arras (godmother) holds 13 coins and places them in the groom's hands while sharing the different values that the couple desires to share between themselves: love, harmony, cooperation, commitment, peace, happiness, trust, respect, caring, wisdom, joy, wholeness and nurturing. The coins are then kept one half by the woman and the other half by the man, as a pledge of marriage. It was wonderful to have the blend of cultures and traditions.
What do you like about the way wedding wear has changed over the years?
It reflects the bride and groom's style and that makes it truly their special day!
Fave wedding food?
The cake, of course!
Erin Nelson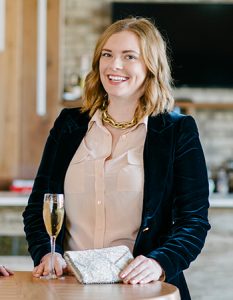 On her bike—riding or racing across Wisconsin—is where you'll find Erin when she's not in front of the camera or working at Trek Travel.
What was your favorite outfit from the shoot?
Probably the long blue dress. I felt very scandalous in a fun way.
What makes a wedding fun?
The most fun I've ever had at a wedding was actually this past summer when I was a good friend's plus one and I thought I was walking into a "I don't know anyone here but you" situation, but it turns out I had met the bride very briefly a while back, and a lot of the guests were people I had met before but hadn't seen in a while. It ended up to be a great night of reconnecting. Plus, the dinner was a selection of local food trucks outside which gave the whole thing an awesome vibe.
Distill your personal style into three words:
Goes with everything.
What's your favorite way to accessorize a special occasion outfit? 
Killer heels.
Do you have any tips for dressing as a wedding guest?
Uh, don't wear white.
Ultimate wedding food/dessert? 
Doughnut bar.
Sam Cechvala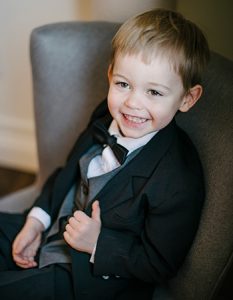 Sam, son of assistant editor Julia Richards, 4 ½, loves vehicles, books and doing puzzles with his grandparents. He very much enjoyed this "pretend wedding" photo shoot, especially hanging out at the snack table. Sam is no stranger to real world weddings either; last summer he was the ring bearer in his uncle's wedding!