By Shayna Mace | Photography by Shanna Wolf
Chris Schmidt says your garage is often an overlooked spot that has great potential.
"Typically, the biggest room in your home is your garage. If you put some organization into this space, it can actually make every other room in your home better. When you think about organizing anywhere—it all comes down to everything having a place to belong when it's not in use. And, the garage can be the biggest area for the 'collect-all' [items]," explains Schmidt, the sales director of Cabinet City by dream.
Schmidt waxes poetic that a garage can even be a warm and welcoming space. Instead of keeping the drywall unadorned, why not paint the walls? Can lighting can eliminate the no-frills atmosphere. An epoxy or tiled floor can add to the aesthetics. "Garages are large open spaces and they don't come naturally with anything to take advantage of storage," Schmidt points out. "There are so many cool things you can do—it's just broadening the mind and spectrum of what you can do with this huge area."
Great Heights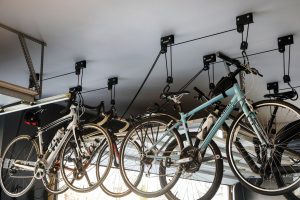 Schmidt advises taking advantage of ceiling storage. This pulley system (left) can mount bikes, kayaks and paddleboards, and it's easy to get items down. "The [pulleys] also have built-in stops so you can't accidentally drop something on yourself anytime something is above chest height," he notes.
Water Ways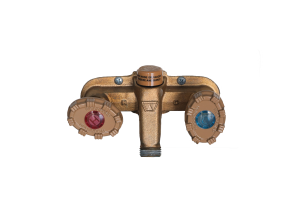 Having a utility sink in the garage helps to contain messes. "It keeps the house cleaner because if somebody's working outside doing gardening or lawn care, they're not tracking [the mess] inside," says Schmidt.
Hanging Out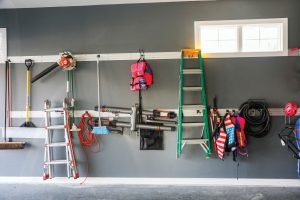 This aluminum track system can be hung on the wall and custom- ized for length. Schmidt says having two heights helps, too. Lighter items like brooms and shovels can be hung on the top tier and heavier items like bikes can suspend from the bottom. Homeowners can also choose where to hang various-sized hooks in the track, depending on the size of hanging items.
Perfect Placement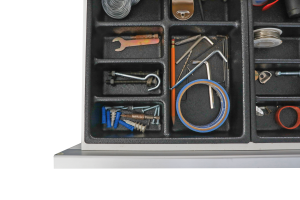 Schmidt says the other major garage spot homeowners are looking to organize is their work- bench area. By adding cabinetry and drawers, this spot can be organized just like a kitchen would be. "We can offer drawer storage with dividers that are made to [store] tiny pieces. [These types of items are] better in drawers … as opposed to being thrown in a box or on a shelf," says Schmidt.