Attendees joined us on October 20 to Learn 3 strategies to build financial confidence in this FREE 45-minute session.
Didn't make it to the live event? You're in luck — you can watch the recording here.
Sponsored by Summit Credit Union
Confidence & Money: A Free Webinar with Summit Credit Union
Let's break down economic barriers for women and help you overcome financial trauma and stress to transport you to a state of empowerment. Find out the three strategies to building financial confidence, which will in turn give you power to self-advocate and take action for your highest good. Up, up and away on your goals!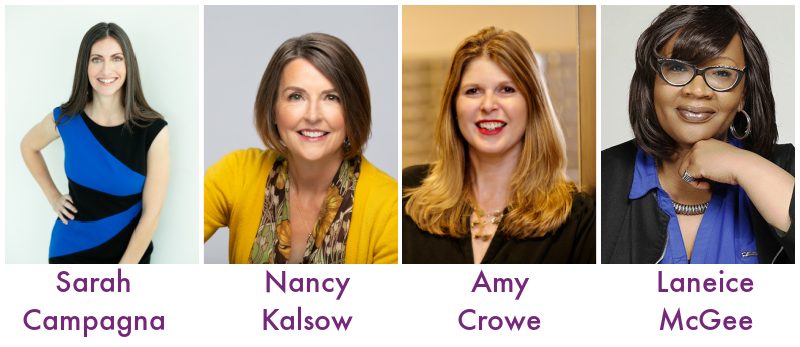 Sarah Campagna, Managing VP Financial Empowerment at Summit Credit Union
Bio: Sarah Campagna is a driven leader and coach with a passion for purposeful work that directly influences financial wellbeing. In her role as Managing Vice President of Financial Empowerment at Summit Credit Union, she supports and develops her team of financial educators and coaches. She oversees Summit's award-winning programs that bring actionable financial education to members like Financial Wellness for Employees- a workplace financial wellness program, Project Money- a public financial behavior change program and Project teen Money, a high school peer education scholarship challenge. She has seen the impact that sound financial education has on implementing meaningful life changes.
Nancy Kalsow, The R.E.A.L Expert at Kaslow Coaching & Consulting, LLC 
Bio: Nancy Kalsow ignites confidence and courage in leaders who want to unleash their full potential. As a Professional Certified Coach and Business Consultant/Facilitator, she "Gets R.E.A.L" with her clients.  Reflect. Engage. Activate. Leadfully. To bring the best version of WHO people are to the highest level of performance in WHAT they do.
Amy Crowe, Financial Education Specialist at Summit Credit Union, CUDE, CEPF, and host
Bio: Amy Crowe, CUDE, CEPF, is a personal finance expert with 20 years of experience in writing, speaking and educating about money.   Her thoughts, ideas, and advice have been featured on television, in print and online magazines, on podcasts, at conferences and on expo stages.
With a degree in communications from the UW-Stevens Point, Amy started her career marketing financial services at Summit Credit Union and today leads their award-winning signature community financial education programs, Project Money and Project Teen Money.
Amy lives in the Madison area with her husband and teenage daughter. She enjoys traveling and photography.
Laneice McGee, Founder of Laneice Leads 
Bio: Laneice McGee, is known to spark motivation that lights up a room. With a B.A from Fisk University, M.S from Springfield college and currently serves as a Workforce Director. An Award-winning author", and TEDx speaker, Laneice, believes, that it is not just about creating a name but creating an impact.