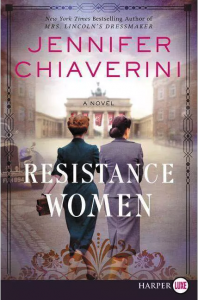 We kick off the book club this month with "Resistance Women" by local author Jennifer Chiaverini. Best known for her Elm Creek Quilt Series, Chiaverini weaves a historic tale of suspense in this recent release. Readers will enjoy local references as the leading character, Mildred, is a UW-Madison graduate student who marries a German economist and settles in Berlin in the 1930s. The newlyweds enjoy an exciting life with new friends and experiences, but a dark political faction is sweeping across the country and soon will change their fate. With the rise of Hitler and the Nazi Party, Mildred, her husband and friends vow to resist. Mildred gathers intelligence, while her German friends collect information from military officers, officials and others within the Nazi regime. Based on actual events, "Resistance Women" is an unforgettable story of ordinary people determined to resist the rise of evil, sacrificing their own lives and liberty to fight injustice and defend the oppressed.
Looking to buy the book? Try these area book stores:
You can also try Overdrive, an online e-book sharing system.