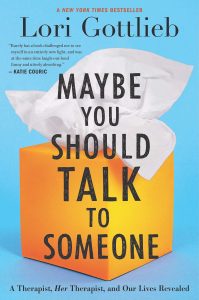 BRAVA Book Club's pick for the second quarter (chosen by our members!) is Lori Gottlieb's "Maybe You Should Talk To Someone: A Therapist, Her Therapist, and Our Lives Revealed." If you've ever wondered what's going on in the head of the person sitting across from you on the couch, you won't want to miss this memoir. Gottlieb opens up about a challenging time in her own personal life and her own experience of therapy, as well as how she approaches four of her patients.
While the Madison Public Libraries are closed, you can still access downloadable audiobooks and eBooks with a library card. And while many local bookstores were closed at press time, they are still offering online ordering and delivery. In fact, A Room of One's Own is offering free curbside delivery in Madison, and $1 shipping elsewhere in the U.S.!
Mystery to Me is also offering curbside pickup for books at this time, and they urge everyone to shop on Bookshop as well. Bookshop is an online bookstore that gives a portion of the total sales to small-scale and indie booksellers, like Mystery to Me and others. Here is the link for shoppers to support Mystery to Me through Bookshop: https://bookshop.org/shop/mysterytome
Connect with the BRAVA community and join in the discussion of the book at our Facebook group.
April 2020 – An update on area book stores:
A Room of One's Own, Madison has stopped in-store pickup and staff deliveries. You can still order books online, but they will be shipped to you rather than dropped off in person.
Half Price Books (East Madison) has closed its doors due to COVID-19, but you can still order online.
Mystery to Me, Madison is offering curbside pick-up by appointment only. You can support Mystery to Me through their online Bookshop portal here: bookshop.org/shop/mysterytome. (They get a portion of each sale through this portal.) Additionally, you can purchase audiobooks from Libro.fm and 100% of each new membership will go to Mystery to Me.
The Book Deal has halted curbside pick up, but is working hard to sort through new arrivals and get books listed for online purchase. Follow them on Facebook for new releases – prices will include shipping costs.
You can also try Overdrive, an online e-book sharing system.