Celebrate the day, unwind, and network with fellow conference attendees!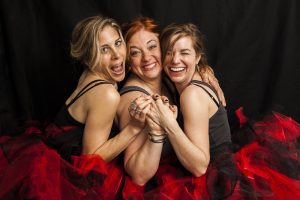 "Gin, Chocolate & Bottle Rockets"
Gin, Chocolate & Bottle Rockets combines the musical styles and life adventures of three solo-
artists-turned-bandmates, Jennifer Farley, Shawndell Marks and Beth Kille. Hailing from southern
Wisconsin, they've been sharing their genuine personalities, songwriting and tight 3-part
harmonies with audiences since they joined forces in 2014. As musicians, they've been honored
with the 2015 Madison Area Music Association (MAMA) Award for Ensemble Vocals, earned a
runner-up nod in 2016 from Isthmus for Favorite Rock Band, and were recognized as a finalist for
Artist of the Year at the 2017 MAMA Awards. In the Spring of 2017, they embarked upon a new
adventure, as professional speakers, creating a 45-minute Be Your Own Superhero motivational
presentation that combines storytelling, songs, wit and wisdom to help their audiences embrace
their own inner superhero.
W2W Power Happy Hour Sponsor