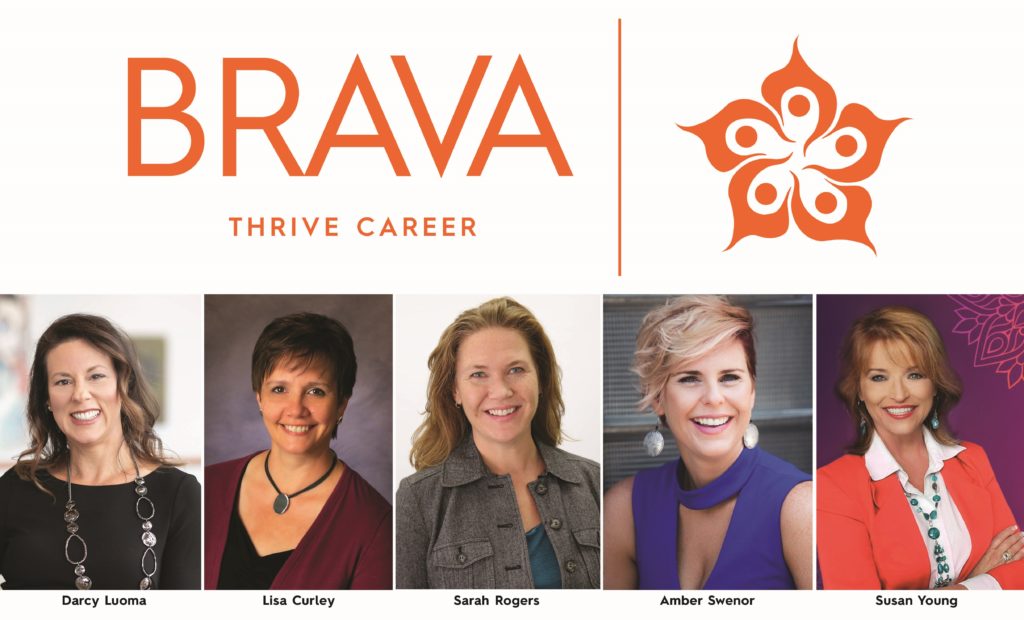 2019 THRIVE Career Workshop Series
JOIN BRAVA FOR THIS ACTION-ORIENTED PROFESSIONAL DEVELOPMENT WORKSHOP SERIES
Gain immediate skills and outcome strategies that will create more fulfillment, effectiveness and success in your career–and your life.
February 20, 2019 | Let It Go…Build Your Power to Accept Others Just As They Are
June 19, 2019 | Grow Your Sense of Self through Leadership Progression
September 18, 2019 | Adapt Marketing for the Experience Era
November 20, 2019 | Art of First Impressions for Positive Impact
Promega BTC Event Center | 8:45-11:45 AM
---
Sign up for all four 2019 THRIVE Career Workshops here!
---
February 20, 2019 | Let It Go…Build Your Power to Accept Others Just As they Are
Darcy Luoma
In a world that is feeling more polarized than ever, you are bound to work with people you may disagree with or who have a completely opposite approach than you. When faced with challenging viewpoints and behaviors, it is possible to maintain your integrity and still work well together. But accepting differences and letting things go is not as easy as is seems. In this interactive workshop, you will learn Thoughtfully Fit® strategies of FLEXIBILITY that you can use immediately to stretch to accept others and let go of what you can't change. Gain strategies to control what you can in order to increase effectiveness and achieve better outcomes.
About Darcy:
Darcy Luoma is a master certified coach, dynamic facilitator, and professional speaker. She has her Masters in Organization Development from Pepperdine University and is the founder and president of Darcy Luoma Coaching & Consulting, which creates high-performing people and teams. Darcy balances her thriving business with raising her two energetic daughters and competing in triathlons.
Sponsored by
---
June 19, 2019 | Grow Your Sense of Self through Leadership Progression
Sarah Rogers & Lisa Curley
Are you ready for a new challenge, but not sure where to start? Empower yourself to enjoy personal and career success by taking charge of your own development path! Successful leadership development is based in progression. You can unleash the powerful and purposeful leader inside by exploring a variety of growth experiences and approaches. In this interactive workshop, you will develop a plan based on leadership competencies, your talents, and growth opportunities. Sarah and Lisa will energize you and you'll walk away feeling encouraged and ready to take the next step to becoming an even better leader.
About Sarah & Lisa:
Sarah Chevis Rogers, Director of Leadership Development with the Girl Scouts–Badgerland Council, and Lisa Curley, 4-H Program Coordinator with the Dane County UW-Extension, have collectively more than 40 years experience developing leaders in non-profit organizations. Lisa and Sarah share a passion for helping others identify talents and grow confidently through stretch assignments, development programs, and new roles. Both have worked extensively in employee and volunteer engagement and have been successful motivating individuals to build positive, purposeful leadership paths. In addition, both work for organizations that have been developing leaders for more than a century.
Sponsored by
---
September 18, 2019 | Adapt Marketing for the Experience Era
Amber Swenor
Marketing in the Experience Era is about more than just marketing.
Today, more and more consumers and employees are seeking authentic brand experiences.
In this workshop style talk, Amber will guide you through shifts that have happened in communications and the culture of society and work, and what that means for the business climate we are in today. She will also guide you through an engaging framework to help you leave empowered with a roadmap to define your brand that translates both internally and externally, and informs your customer experience strategy.
Whether you are a solopreneur, small business or large corporation, your company will benefit from taking this knowledge and applying it to your organization.
You will gain:
Understanding of what the experience era is (and why it matters to your business)
A Roadmap to define your company's Customer Experience Strategy
Tactical Strategies to implement to create more intentional customer experiences
About Amber:
Amber Swenor is the founder of Strategic Partners Marketing a firm that provides both strategic brand consultation, and implementation services including media strategy, digital funnels, and PR. SPM has earned two Addy Advertising Awards. Amber's fulfilling her personal mission to empower and inspire others to build their brands through Amberdella Coaching and Consulting where she coaches women to unlock and unleash their personal brand, and up-level their income and impact. She was a 2017 Brava Woman to Watch, In Business 40 Under 40, 2018 Vital Voices VVGrow Fellow and 2019 Goldman Sachs fellow. When she's not strategizing with clients, you'll find her rocking with her band, Morningstar.
Sponsored by
---
November 20, 2019 | Art of First Impressions for Positive Impact
Susan Young
CONNECTIVITY is EVERYTHING in today's competitive world. With every new encounter, impressions are made. Opinions are formed—about you, your service, your company, your appearance, and your personality—all within a few short seconds. Those "seconds" can be the make-or-break or yes-or-no basis for your success.
Gleaned from Susan C Young's new book, this program delivers tips and tools to help audience members prevent social mishaps, lost business, rejection, low self-esteem, failure, career complacency, and lifelong frustration. With high energy and easy relatability, Susan teaches how to build and strengthen long-term mutually beneficial relationships, lead with confidence, communicate with courage, and ensure their impressions—from the first to the last—are positive and substantial.
About Susan:
Susan Young is the Founder and CEO of Susan C Young International, LLC, where she delivers dynamic keynotes and educational workshops, inspiring leaders and teams to create POSITIVE CHANGE for POSITIVE IMPACT.
Sponsored by