Virtual Talk: The Discovery and Preservation of Two Ancient Canoes Found in Lake Mendota
January 24 @ 6:30 pm - 8:00 pm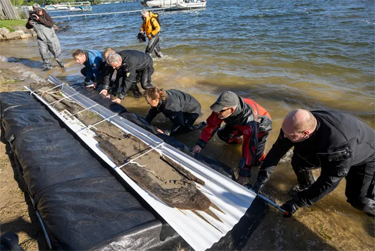 The Friends of Pope Farm Conservancy is excited to welcome Dr. Amy Rosebrough, archeologist at the Wisconsin State Historical Society, for a special VIRTUAL talk on Tuesday, January 24, 2023, at 6:30 p.m. about the recent discoveries of two ancient canoes in Lake Mendota.
Thousands of years ago, dugout canoes fashioned by Native American craft workers vanished under the waters of Lake Mendota. In 2021 and 2022, they were raised to the light of day again by divers and volunteers with the Wisconsin Historical Society, in partnership with Wisconsin's Native Nations.
Join us on Zoom to hear the results of the latest (and ongoing!) research into these ancient watercraft and the lives of the people who used them to paddle Wisconsin's waterways.
This virtual talk is free and open to the public and will take place on Zoom. You must register in advance to receive the zoom link to join.
Register Here: https://bit.ly/3Ftv6ee
Cost: Free and open to the public.
Website: https://www.popefarmconservancy.org/events/
Share on Facebook: https://www.facebook.com/events/1350029709122945/
Contact: [email protected]